Cov19 preventive measures
HEALTH MEASURES
Last update 25/11/2021 : Proof of a negative RT-PCR or antigenic test that is less than 24 hours
---
 : Proof of a negative RT-PCR or antigenic tes
We look forward to welcoming you to Paysalia & Rocalia 2021.
Here are all the answers to your questions about the health protocol following the latest government announcements. These may change as new regulations are put in place. They will be updated as necessary, so do not hesitate to refer back to them regularly.
THE SAFE & CLEAN LABEL: A RIGOROUSLY APPLIED HEALTH PROTOCOL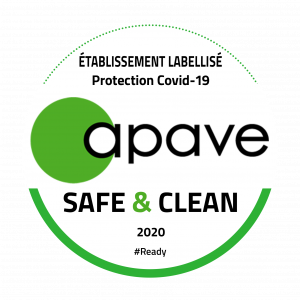 We are pleased to inform you that, since 2020, all our venues and business activities have obtained the "Safe and Clean" label issued by APAVE. This certificate guarantees the quality of all the protocols applied, proposed and deployed in our venues, at our events, or during our teams' production and assembly operations.
IF YOU ARE GETTING READY TO TRAVEL TO ATTEND IN THE SHOW
We invite you to consult the website: https://www.diplomatie.gouv.fr/ to check the conditions that will apply to you depending on your country of origin and the date of your trip.
---
A HEALTH PASS IS YOUR KEY TO ENTERING THE SHOW
A 'Health Pass' is compulsory during the assembly, operation and dismantling phases of the event in order to enter the exhibition. You must have one of the documents listed below:
Proof of a negative RT-PCR or antigenic test that is less than 24 hours old OR Supervised self-testing (with proof of result entered by a health professional)
A serological test or certificate of infection that is more than 11 days but less than 6 months old, proving a prior coronavirus infection. This certificate is only valid for a period of six months from the date of the examination or test.
A certificate of full vaccination, with one of the vaccines granted a marketing authorization by the European Medicines Agency:
> 7 days after the 2nd injection for double injection vaccines (Pfizer, Moderna, AstraZeneca) ;
> 28 days after injection for single injection vaccines (Johnson & Johnson);
>7 days after injection for vaccines in people with a history of Covid (single injection).
The Health Pass will be requested and verified by "health monitors" stationed at the parking entrance and outside the event's entry hall.
For those who cannot present a valid sanitary pass, access to the exhibition will be denied.
---
PLACES TO PERFORM YOUR PCR TEST
A sanitary concierge is set up at Eurexpo:
On the exhibitors registration car park (P8) open for assembly / disassembly
On the main entrance (next to the tram) open during the public opening of the show
Test prices:
Antigenic tests: 22 €
PCR tests: 44 €
Credit card or cash payment.
Opening Hours of the sanitary concierge
P8 Sanitary Concierge :
25/11 : 7h-12h
from 26/11 to 27/11 : 7:00 am to 12:00 pm / 01:00 pm to 5:00 pm
28/11 : 7:00 am to 12:00 pm
29/11 : 7:00 am to 12:00 pm / 01:00 pm to 03:00 pm
30/11 : 08:00 am - 10:00 am
02/12 : 03:00 pm to 08:00 pm
03/12 : 7:00 am to 12:00 pm
Main Entry Sanitary Concierge :
from 30/11 to 01/12 : 08:00 am to 05:00 pm
02/12 : 08:00 am to 04:00 pm
HEALTH MEASURES DEPLOYED AT THE EXHIBITION
PREVENTIVE MEASURES REMAIN IN PLACE
Wearing a mask remains mandatory inside and we will make hydro-alcoholic gel available during the show. Signage recalling the precautionary preventive safety gestures will be posted on the site for all to see.
CAPACITY LIMIT
As of June 30, no other limit is required other than that regularly applicable in establishments open to the public.
TRAFFIC FLOW
The configuration of the aisles will enable the respect of social distancing and preventive measures that, as an added caution, remain in effect.
CATERING ON THE EXHIBITORS' STANDS
Food distribution, cocktails, and coffee machines are allowed on the stands. Please use individual portions and respect the barrier gestures and social distancing measures.
A REQUIRED SANITARY MEASUREMENT COORDINATOR
We are all affected by all these protective measures, so each company participating in the event will have designated a coordinator to ensure compliance with the rules in force. By default and without any feedback from you, the health referent is the stand manager (contact person on the stand indicated on your participation contract). Sanitary referents are also appointed within the Expobiogaz 2021 exhibition organization team.
Thank you for your understanding and your commitment.
We wish you an excellent exhibition,
The Paysalia & Rocalia team
---
Last update 25/11/2021 : Proof of a negative RT-PCR or antigenic test that is less than 24 hours