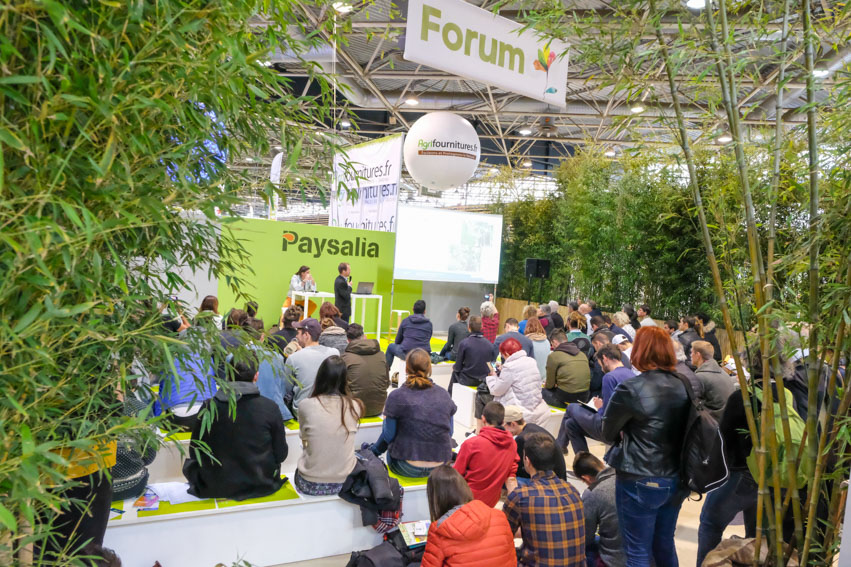 © Elisabeth Rull
Paysalia is an unmissable event to discover solutions, innovations, discuss common concerns during conferences led by experts, real actors in your business.
This year the conference topics are directly related to the themes of the show:
The Village Place/ The revitalization of city centers/ Tourist attractiveness, inhabitants, companies
Protection and security by landscaping
Innovation and technology in the landscape sector
Human Resources and Business Management
The conferences will take place in the forum area, in the heart of hall 5.
Forum Paysalia's conferences
WARNING : programs are subject to change by organizers.
All conferences of the Forum Paysalia will be translate in english.
Tuesday, 3 December 2019
11:00am-11:45am: Green City Day Conference

The Importance of vegetation for attracting tourists and the revitalization of urban centres in Europe.
by Liam Casey, Senior executive Parks Supt (Parks, landscape & cemeteries division- Cork City Hall)
Participative Public Space Design in Tatarstan, Russia.
The Public Spaces Development Program was initiated in 2015 under the President of Tatarstan to develop and regenerate the parks, squares, riverfronts and pedestrian streets of the Republic. It is implemented in each of the 45 municipal districts, in settlements ranging from major cities to rural villages, and from the cultural and political capital to industrial centers, and to date, over 300 public spaces have been created or remodeled for year-round enjoyment. The program is hallmarked by a participatory process that engages with citizens and with the specific identity of the place and its communities, including infrastructure and programs for cultural activities to improve the attractiveness and the quality of life
by Anna Grichting, Architect and urbanist graduated with a Doctor of Design in Urbanism from Harvard University
Animated by World Urban Parks (WUP)

12:00pm-12:45pm : Exoskeletons: When science fiction invites itself into the landscape
What help can exoskeletons provide? Benefits, limitations and constraints.
by Christophe Tamin (Unep), Marc Mouterde (Unep), Alain Martineau (Unep)
 
2:00pm-2:45pm: How to prevent and manage the ageing of professionals?
The place of over fifties: prevention of premature ageing, reconversion and the importance of transmitting know-how to younger people.
By Stephane Martinache (Professional Risk Prevention Consultant - City of Lyon Green Space Direction)
Conference organized by Echos Paysage
 
3:00pm-3:45pm: ELCA Exchange program 
You want to gain a lot of international experience, expand your networks, develop your skills, experiment and understand different cultures?
If your answer is yes, then let us congratulate you. You are in the right place
Let's make this exchange program the best experience of your life.
We will help you define your goals, overcome your fear and accompany you in your journey.
ELCA Exchange Team -www.elca.info/exchange -exchange@elca.info
by ELCA
 
4:00-4.:45pm: Water managements and the choice of plants via case studies highlighting the challenges and solutions.
Review of the Vegepp program and presentation of the new rain water management pro rule.
by Robin Dagois (Account manager - Plante et Cité) 
Wednesday, 4 December 2019
10:00am-10:45am: Using plants to depollute soils
by Marie-Anne Joussemet (Experiments manager - Astredhor Est)
 
11:00am-11:45am: What if our best allies were drones?
For topography, photos, treatments, the identification of diseases. Forestation (recovery rate).
by Claude Courvoisier (Assistant Director - Société forestière de Dijon), Benoit Brissinger (Landscape Entrepreneur - Brissinger - Unep)
 
12:00am-12:45am: Ecological engineering: a sustainable solution for protecting our infrastructures
Flood prevention, bank reinforcement… and other natural risks.
by Sébastien GALLET (président de l'A-IGEco)  
by Loïc PIANFETTI (Paysagiste concepteur DPLG, Chef de Division P & B – Pôle Paysage de la SNCF)
by Olivier TAUGOURDEAU (Ingénieur de recherche chez Valhoriz)
2:00pm-2:45pm: Global warming: how to adapt and plant differently?
To adapt plantations to new and future climatic conditions (drought, etc). The right tree in the right place (adapted to the climate and the soil).
by Aurélien Puiseux
 
3:00pm-3:45pm: Measuring plant value in your city
It is possible to measure the value of urban vegetation. Examples of values and tools. Application of Toolkit in the City of Nantes.
by Pauline Laïlle (Mission manager - Plante et Cité) and Anne de Kouroch (Consultant - AK consultants)
 
4:00pm-4:45pm: Optimizing performance: integrating health prevention in investment plans
Corporate performance depends on successful investments. MSA proposes a new investment approach factoring in both work requirements and health and safety logic upstream from project designs.
At "Preventers" MSA, human factor analysts and managers work together to integrate human, organisational and work techniques in the investment project.
by Marie Rebeyrol, Consultant in professional risk prevention - MSA Ain-Rhone
by Julie Beccat (Ergonome consulting)
by David Iung (Manager of a maintenance and creation of gardens and green spaces company)
 
5:00pm-5:45pm : Biophilic and vegetal: European tour of the interior landscape
Biophilia is the innate tendency to get closer to the living, the "nature". Applied to interior landscaping, it can reduce stress and improve living conditions by developing contacts with the living or what evokes it. The Eilo promotes biophilic plant and biodiversity-based facilities for an optimal indoor living environment, and many places in Europe are full of beautiful examples, whether iconic or innovative, from the private sphere to larger spaces.
by Pierre Darmet, European Interior Landscaping Organsation (EILO)
Thursday, 5 December 2019
10.00am-10.45am : Landscape professionals : with Unep, get a head start.
Conference animated by the French union of landscape enterprises
by Béatrice Royer and Inès Devisch, Regional Delegate of Unep
 
11:00am-11.45am: What to plant instead of boxwood?
Presentation of boxwood replacement plants resistant to bee moths?
by Jean-Marc Deogratias (Experiments manager - Astredhor) and Maxime Guerin (Research Manager - Plante et Cité)
12:00pm-12:45pm: How to integrate your apprentice for a beneficial collaboration?
Good Practices of Masters of Learning
by Benoît Brissinger (Landscape Business Manager - BRISSINGER ENTREPRISE - Unep) and Jean-Laurent Felizia (Business Leader - MOUVEMENTS ET PAYSAGES - Unep) and apprentices from each of the companies represented
Vegetalisation and equipment partner