A booming landscaping service: vegetalizing workplaces!
26 October 2022
Corporate workspaces used to be cold and impersonal. Now they are becoming warm and comfortable. Indoor landscaping is developing as the benefits of biophilia are better understood and in particular one which interests employers - the impact of plants on employee wellbeing - and productivity. A buoyant business for landscapers who enjoy technical challenges.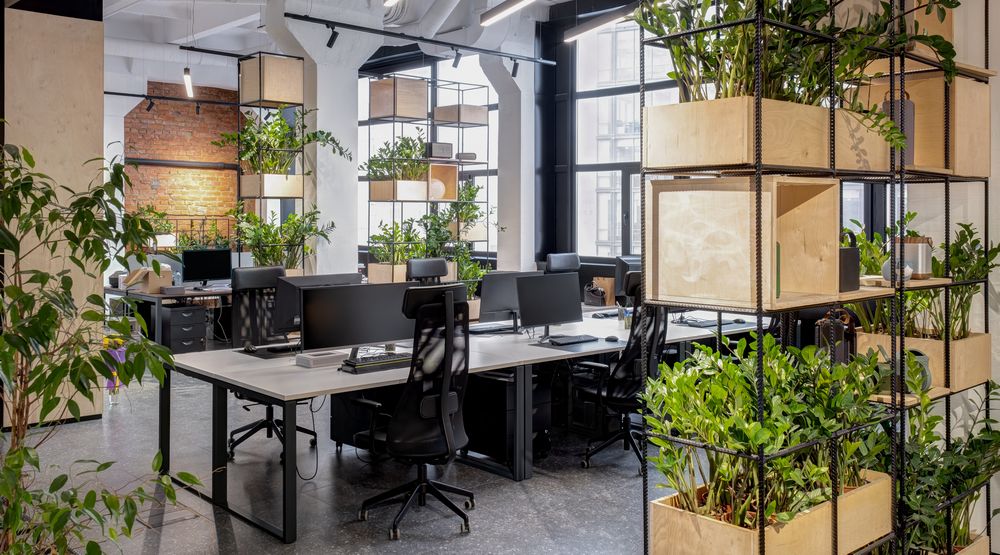 Why companies think vegetalizing offices is a good thing to do?
Many more employers are concerned with wellbeing at work, since employees uncomfortable in their jobs are less productive and absent more often. For companies that means lower performance, intensified personnel turnover and less skilled worker loyalty. Companies can do several things to improve employee wellbeing such as striking the right balance between private and professional life, team spirit, elimination of sources of stress… and creating an environment that encourages work.
Because of its many virtues, biophilic design partially meets this need and is fully integrated into a corporate social responsibility plan (CSR). Plants are what make it all possible as they bring a host of benefits to the workplace, including:
easier workspace appropriation by the employees;
attractiveness of the premises;
sound absorption, in particular in open-plan offices;
ambient air cleaning.
It has also been demonstrated that workplace vegetalization reduces minor stress disorders by 23%, boosts employee productivity by 12% and even improves creativity. Moreover, 65% of employees regret the lack of plants in their workplace (1). So when indoor landscaping is invited into open plan spaces, the whole company benefits!
A new expertise to feature in landscape company catalogs 
The strong demand for workspace vegetalization means companies are looking for this expertise, creating a buoyant market, boosted by the rise in sustainable town planning and increased interest by both individuals and public authorities in biophilic design.
Indoor landscaping encourages landscapers to create customized logistic and technical solutions combining ergonomics, functionality and design, as well as to solve new challenges including: 
lack of natural light;
particular hygroscopic conditions;
pest control;
plant irrigation;
root system management;
etc. 
But never forget the wellbeing dimension! Understand how sounds are propagated in a closed space, which plants filter air most efficiently, which lighting is best for the plants without tiring the eyes of the workers are all things landscapers need to know to create a coherent and healthy plant universe.
Looking for inspiration? These companies vegetalized their offices successfully
Liberty Global: a major renovation in the Netherlands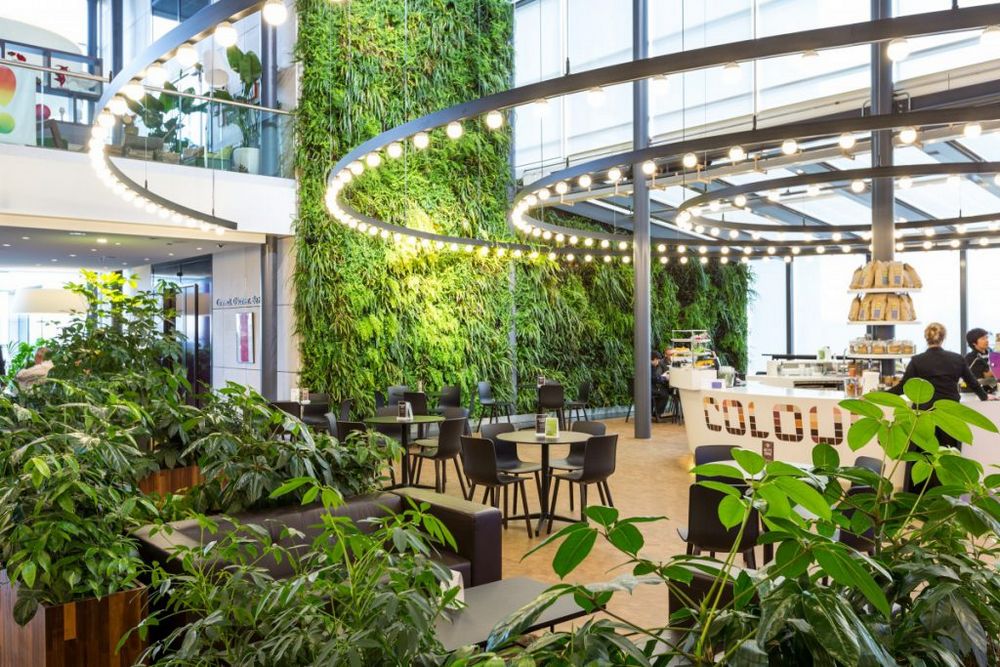 The Dutch landscape designing company Copijn Groenaanleg was given the contract to renovate the buildings of Liberty Global telecommunications. Climbing plants were suspended in a new meeting space in a greenhouse bathed in light. A 65sq.m. vegetalized wall was built in the staff canteen and a range of plants appeared in the reception area and workspaces. The project won the EILO Award in 2015.
Testo: a plant dragon watches over this German company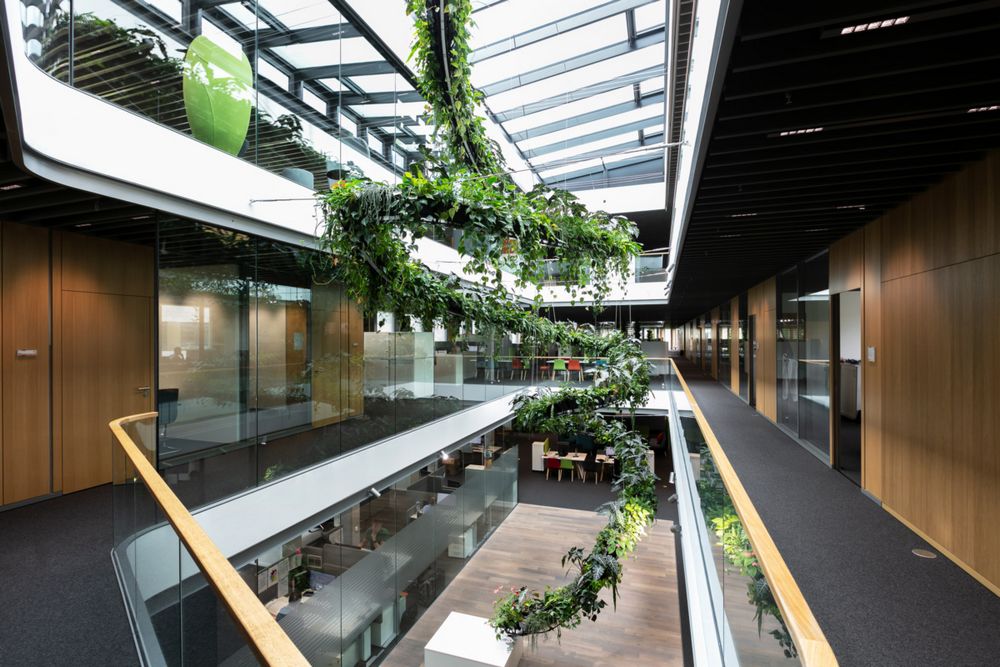 The head office of Testo, world leader in measurement systems, is located in the middle of the Black Forest. To create a bond between surrounding nature and the buildings, specialists Blumen Sumser suspended a 55-meter long vegetable spiral "between heaven and earth" in the atrium, as well as four columns composed of plants. A new viewpoint on each floor! This creation won the EILO Best Projects Award in 2021.
Fosbury & Sons: a vintage environment with pot plants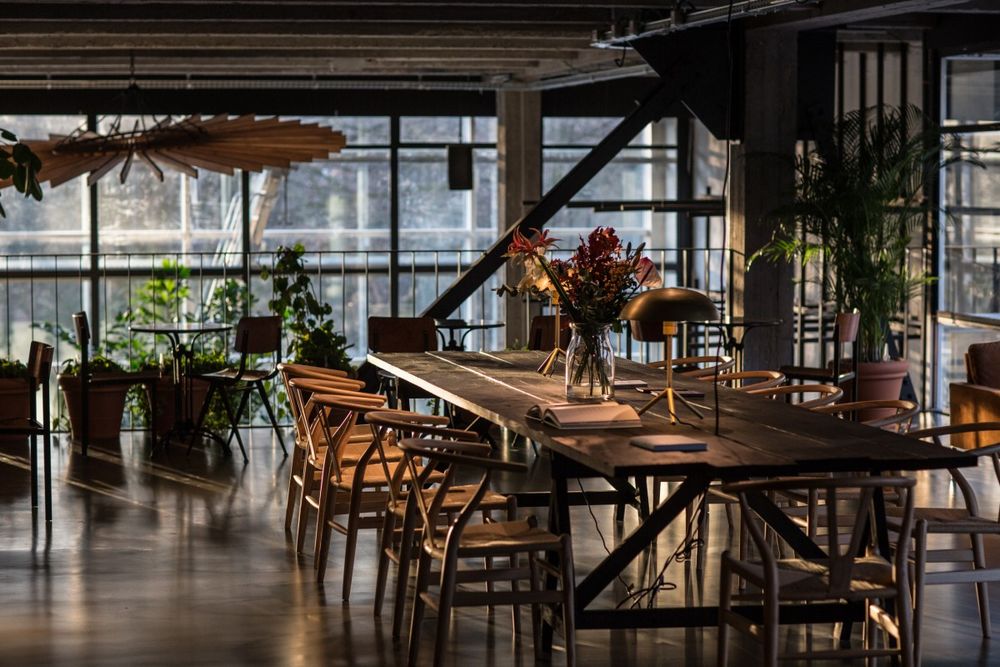 This project in a coworking space in Belgium proves that it is possible to vegetalize workplaces without major construction works. To create a soft, vintage environment, Anygreen set out approximately 150 plants with heights ranging from 60 cm to 4 meters in terracotta pots on its platforms and meeting rooms. This project won 3rd prize in the EILO Best Projects Award Stand-Alone category in 2017.
Retrouvez d'autres projets de végétalisation d'intérieur primés par EILO
Workplace vegetalization is a very good way to improve employee wellbeing and the good news it is that companies have started to understand that. There are opportunities up for grabs for landscapers wanting to do something new!
---
(1) UNEP : Find out other prized indoor vegetalization projects by EILO
© Crédit photo : Petinovs / Adobe Stock