In Strasbourg, "Zero-Phyto" cemetery vegetation has been the norm... since 2008!
28 November 2022
In this European Union hub city, the nine public cemeteries didn't need the "Labbé "Zéro-Phyto"Act" to get rid of pesticides and herbicides. For almost 15 years, the cemetery maintenance teams ran multiple experiments, some failures, some successes, before achieving a sustainable model—and there's still room for fine tuning. We meet Bénédicte Bauer and Renaud Kintz of the City of Strasbourg and Eurometropole cemeteries department, who tell us about this visionary approach.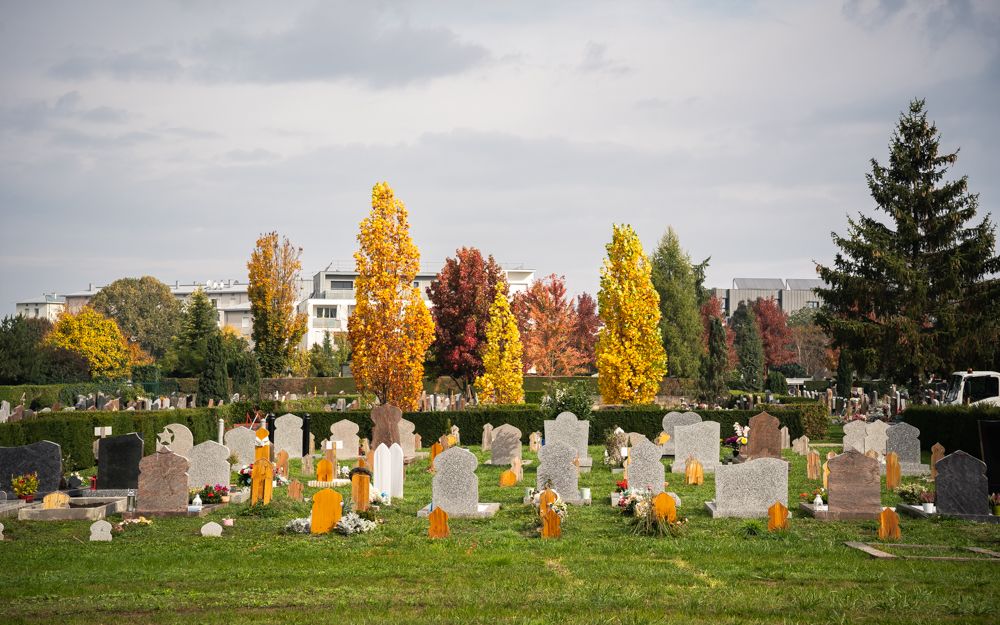 South cemetary of Strasbourg
© Alexandra Koeniguer
2007: An initiative adopted in a hurry because of water pollution
Everything began with an alert from the Rhin-Meuse water authority concerning the presence of pesticide chemicals that resisted the water treatment process. Almost at the same time, the Mayor of Strasbourg and French senator Fabienne Keller, got wind of legislation in the pipeline that would permanently change the way public spaces were maintained. In 2007, therefore, the city council decided to sign an agreement with the water authority whereby from 2008 onwards, the use of pesticides would be banned in the Eurometropole conurbation and the city of Strasbourg itself. This allowed no time for the city services, including sports grounds and cemeteries, to make any preparations.
"Our immediate step was to dispense with phytosanitary products in the small cemeteries. Even though we have a greater gardening tradition than the rest of France, it was still hard for our service as there were few or even no tools suitable for our jobs. We had to use home gardening tools for professional work," recalls Mr. Kintz.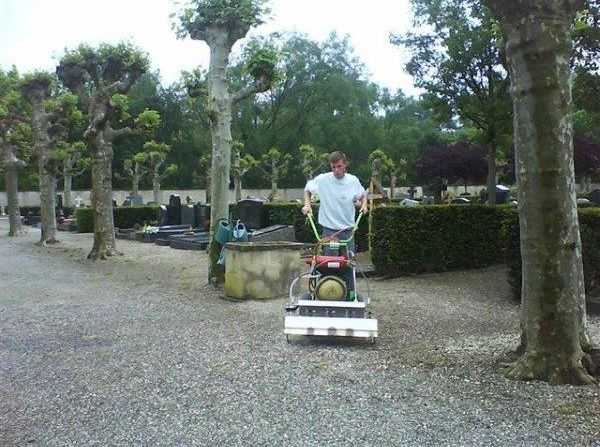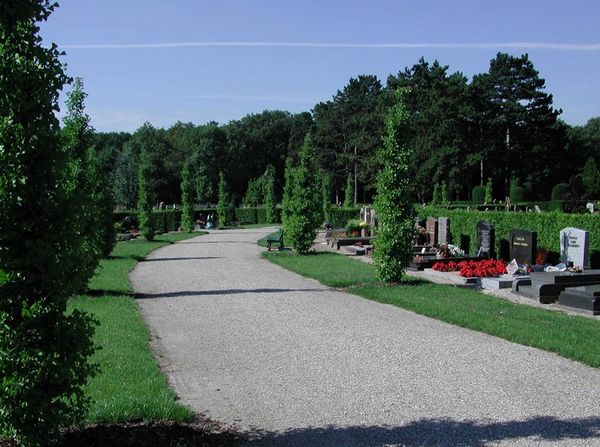 Main alley of the South cemetery in 2009 and gas-fired thermal weed killing
© Photos d'archives, Ville de Strasbourg
In this fateful year of 2008, the cemeteries department found itself up against abnormal weather conditions that greatly hindered implementation of the new strategy. Ms. Bauer explains: "There were heavy storms in June, and as our graves follow the German tradition—directly in the ground with no vault—soil subsidence occurred. Our forty-seven gardeners were switched from landscape maintenance to soil stabilization. However, left unattended, self-propagating plants up to three feet high appeared in certain places. We should point out that Alsatian graves are like mini-gardens—a stone surround with soil in the middle for planting. Furthermore, in Alsace, the cemetery is considered an extension of the home, so graves must be kept immaculate. The plotholders saw these unwanted plants as a desecration of their grave!"
To put things in perspective, vegetated cemeteries in Strasbourg encompass the following:
50 hectares (125 acres)
3000 trees, 2250 of them deciduous
1200 trees needing regular pruning
24 km (15 miles) of hedge
11 hectares (27 acres) of lawn
3250 remembrance rose beds
2008–2015: A revealing "Test & Learn" phase
After trying out the spraying of boiled coconut at 95°C (200°F), the team opted for thermal weed control, with appliances either mounted on a dolly or carried on the back. It was the only mobile tool able to pass through the 30 cm (12") gap between graves. However, "It was an exhausting job: our gardeners' spent all their time killing weeds and had none left to take care of other tasks like pruning the flowering shrubs. Then musculoskeletal disorders (MSD) reared their ugly head." Grassing the alleys and aisles therefore became self-evident for tackling the financial and ecological constraints and reducing occupational burnout.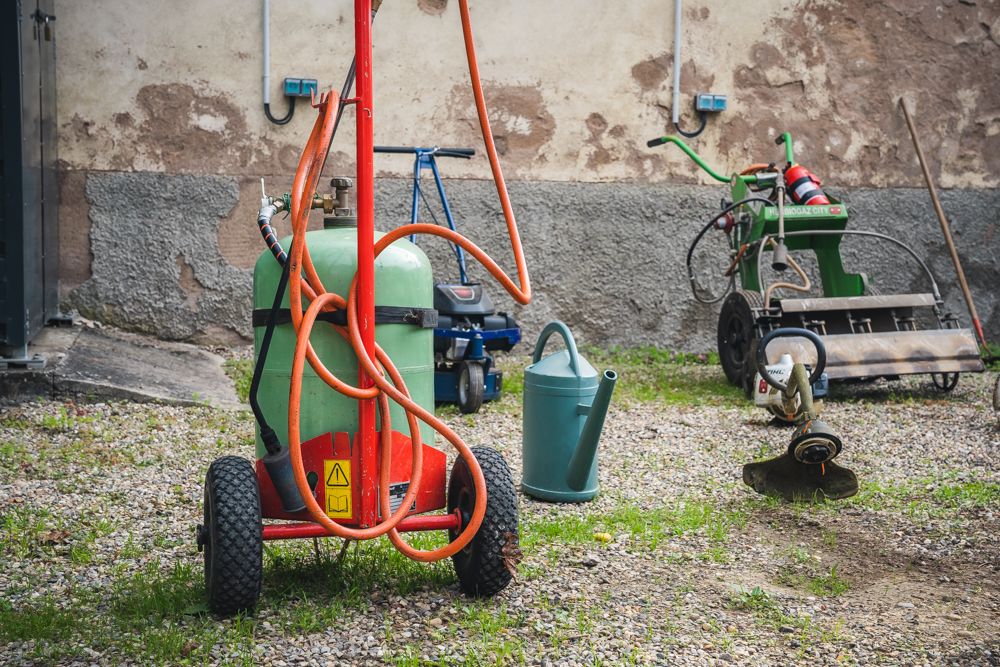 Thermal weedkiller system on dolly
© Alexandra Koeniguer
Between 2014 and 2016, another experiment was conducted, using fine lava gravel coupled with blast-furnace slag from Lorraine, which stemmed adventitious growths by modifying the soil pH. Although this was an interesting way to keep aisles walkable, the fine gravel layer wore away over the years, leaving the field wide open to seed germination. "The technique is a valid one for towns that don't have a maintenance solution and want to give themselves some respite; but it wasn't suitable for us," explains Ms. Bauer.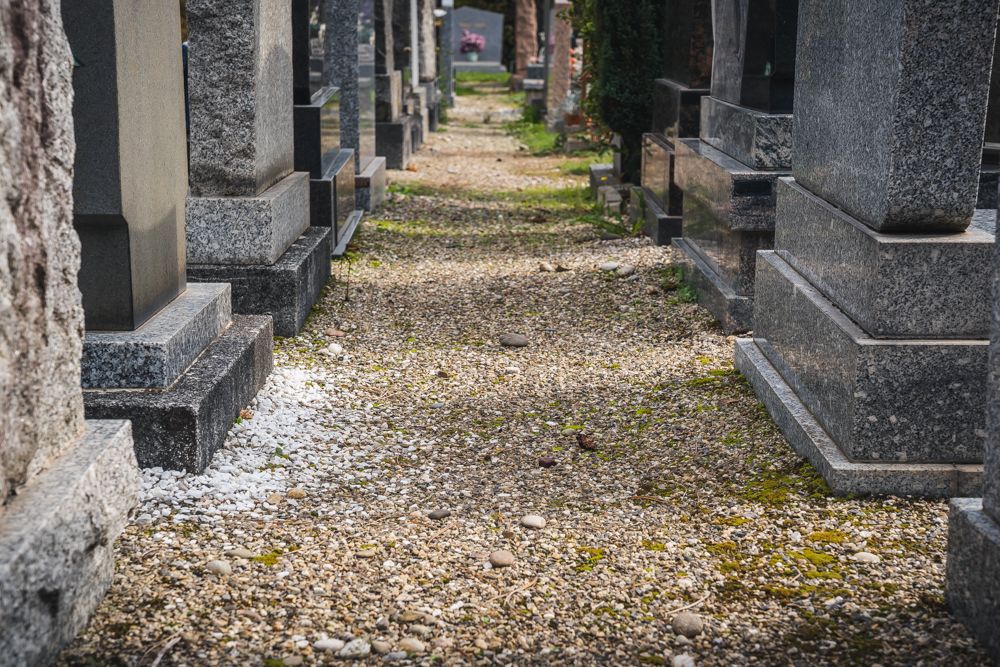 Aisle between graves covered with fine lava gravel
© Alexandra Koeniguer
2016: "Zero-phyto" cemetery upkeep; a fresh paradigm
In response to the rise in MSD cases and the endless battle against weeds, the cemeteries department did a U-turn with their strategy. "We were getting it wrong by striving to keep the grounds exactly as they had been. So we stopped and asked ourselves why instead of removing the unsightly weeds, we didn't just make the cemeteries greener so that the "unsightliness" blended into the landscape. In 2016, therefore, we undertook a huge revegetation initiative in our cemeteries," Mr. Kintz tells us. A large scale mineral-to-vegetable switch was under way.
Having MSDs problems? Think "exoskeletons"!
One of the biggest challenges has been replanning the grounds: how do we shed the mineral covering without hindering vehicle and digger access, without creating ruts or mud baths, and without the need for soil amendments?
The answer came after drawing inspiration from the mixed stone-earth parking spaces you find in public spaces. "We began by laying down one main alley per cemetery, then the walkways, then the drivable alleys using the gravel we already had on site," explains Mr. Kintz. "In alleys without much vehicle traffic, we took the liberty of making a pleasant grassy surface. We started with an initial mixture of dwarf clover, which is very green in early November. However, the clover sometimes took too long to grow. Those were complicated years, without resorting to turf or added earth. There was layer upon layer of gravel everywhere, and sometimes we had to dig down 15 to 20 cm (6 to 8 inches) to find the original soil, so it took almost ten years to get it all out!"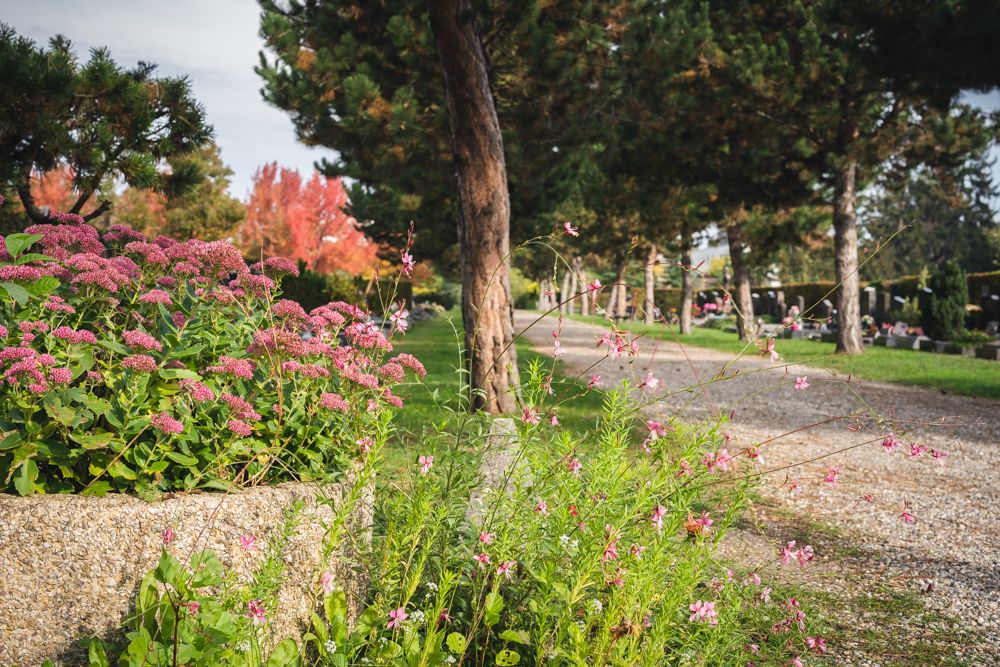 A main alley in Strasbourg's South cemetery
© Alexandra Koeniguer
Today, the cemeteries department uses a TystofteFonden mixture composed of:
white clover (5%)
English rye grass (15%)
Chewing's fescue (10%)
creeping red fescue (25%)
slender creeping red fescue (10%)
sheep fescue (35%)
On the use of coniferous hedges in vegetated cemeteries
Sitting on top of large underground water reserves, Strasbourg cemeteries suffer from dampness problems. The presence of plants, with their evapotranspiration and natural pumping capacity, keeps the graves relatively dry. The 24 km (15 miles) of hedge across the nine cemeteries are laid out to form "tomb chambers" rather than "graveyards", offering intimacy to users who come to meditate. There is nonetheless a downside: because of the volatile essences conifers exude, they are highly inflammable. When weeds are controlled by thermal methods, an extinguisher must always be at hand in the event of an accident!
In 2018, the cemeteries department staff at last found a mower narrow enough to fit between the graves, putting an end to years of upkeep difficulties in the city's cemeteries. "We looked to Germany and finally found our Stella Nimbus mower. There have been a few snags with the motor, however, as it was the home version we bought, which is unsuited to heavy use," adds Ms. Bauer.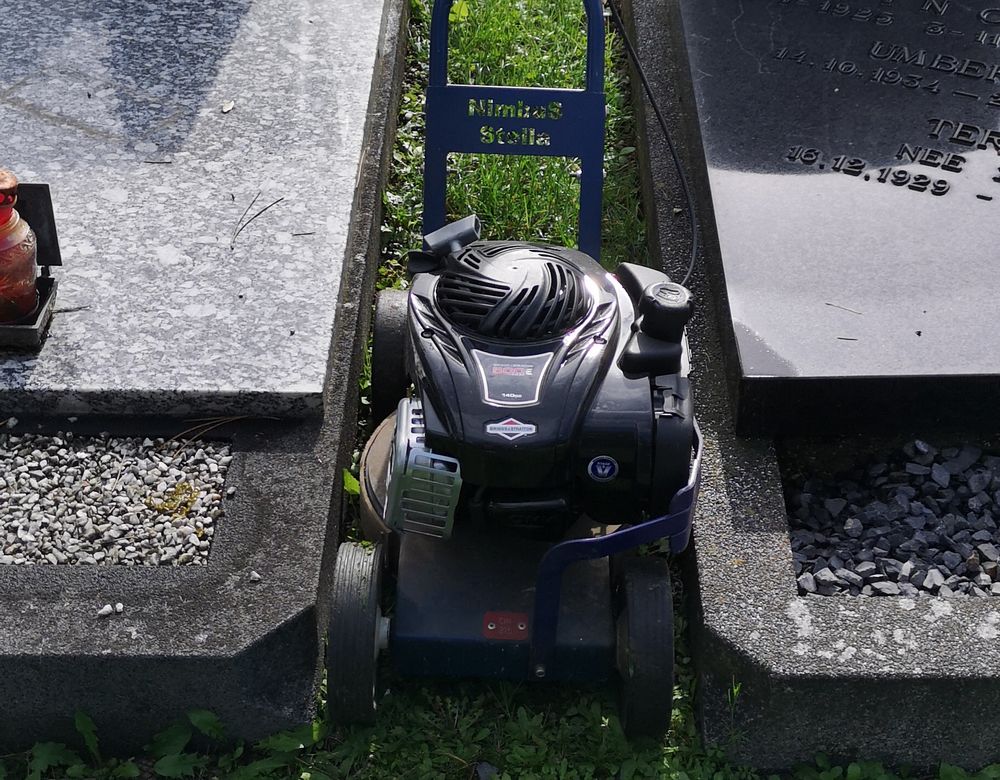 Stella Nimbus mower between two graves
© Ville de Strasbourg 
Small electric string-trimmers also met with much success among the gardeners, being lighter, quieter, vibration-free, and without exhaust fumes. The only hitch: "We are, unfortunately, not masters of our own acquisition budget, and this type of equipment costs more than the IC engine versions," bemoans Ms. Bauer, while nonetheless acknowledging that the more powerful IC engines are better suited to controlling woody plants.
So now it's on the right rails, does the cemetery revegetation project stop here?
"When you look back at old photos with so little evidence of nature, it's so blatant it's shocking! Things look so artificial, straight as a die, in a place supposed to be a landscape," says Ms. Bauer, while Mr. Kintz adds "these 14 years have seen a constant progression—in terms of methods as well as the area treated—in our journey toward revegetation. For thermal weed killing in 2010, we consumed 4.5 tons of LPG in the South cemetery alone. Today, it's less than 150 kg (350 lbs)."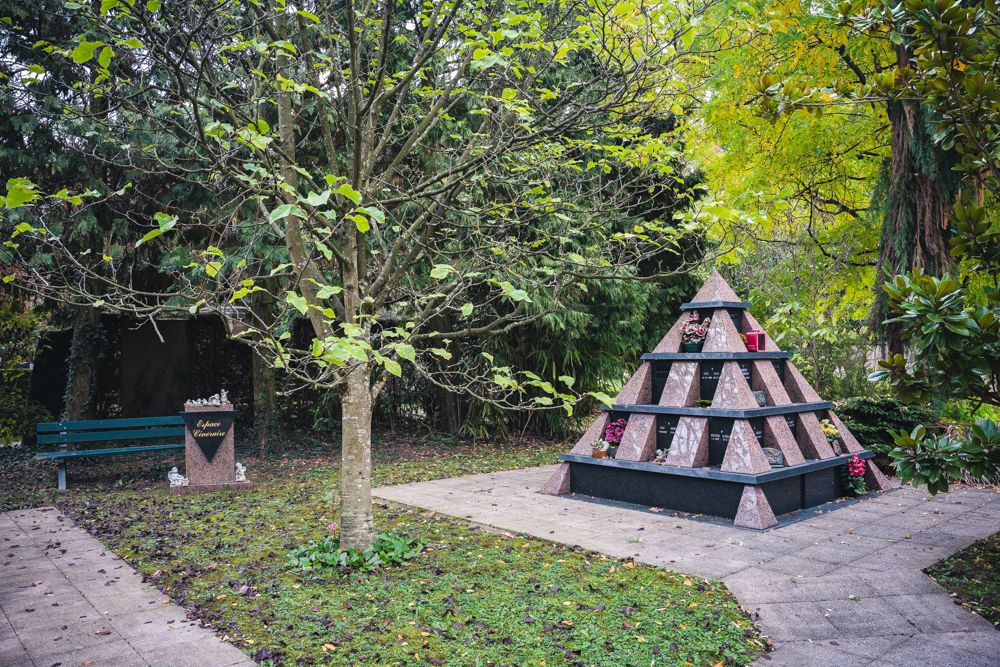 Columbarium in a haven of greenery
© Alexandra Koeniguer
Strasbourg's "zero-phyto" cemeteries have thus taken on a major environmental role, joining the Canopée plan launched in 2020 to create islands of cool in the conurbation. All the alleys and very nearly all of the aisles, with a total area of 50 hectares (125 acres), have been revegetated. But the cemeteries team doesn't intend to stop there: after the introduction of feminist theatrical strolls on the discovery of soft heritage, which narrate the lives of the deceased women lying in the cemeteries of Strasbourg, the team now wants to improve support for bereaved families and to uplift their moral by sensory stimulation provided by plant odors and birdsong, and with nesting boxes and chamber music planned for the future.
The creation of forested cemeteries, which are very popular across the Rhine in Germany, is also being studied: wooded sepulchers will complete Strasbourg's palette of cemetery revegetation operations, with remembrance rose beds and plantations for the burial of ashes.
Communicating to the gardening business and to the public
The custom in Strasbourg was to turn a blind eye to plotholders decorating the space around their grave with red sand or white pebbles. Those spaces are legally in the public domain and the municipality is responsible for their upkeep. To truly achieve full vegetation of cemeteries, they had to install specific notices demanding that this custom cease, which incurred the wrath of local gardening businesses who had developed a parallel trade in grave gap decorations. This lasted for years.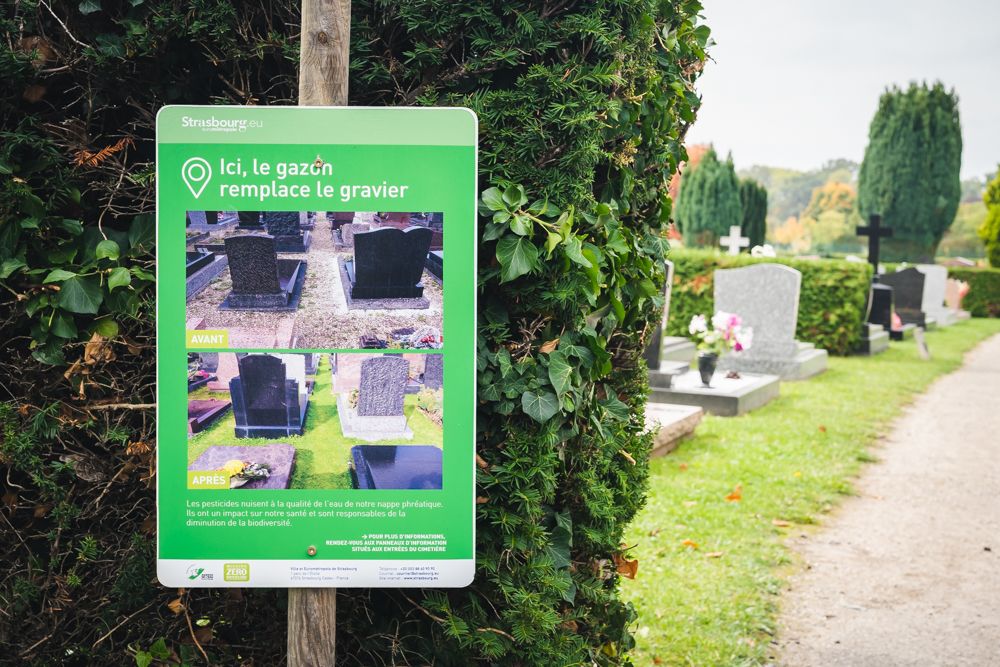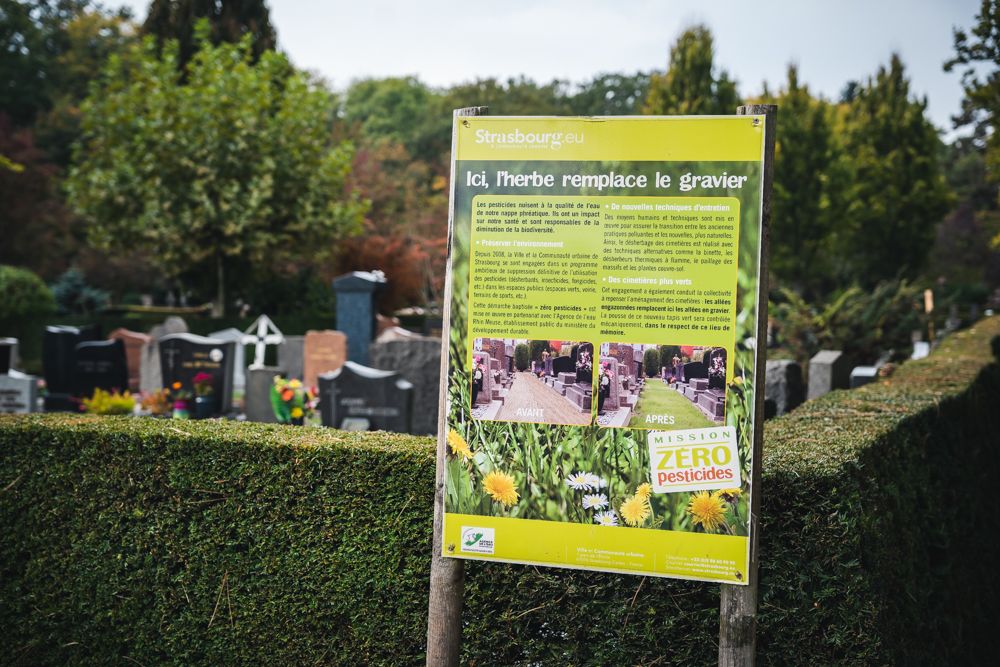 Various information boards
© Alexandra Koeniguer
Ms. Bauer emphasizes that communication on the zero-phyto cemetery must be thought out carefully to avoid offending the bereaved. She shows us an example of a Strasbourg brochure promoting the abolition of pesticides in green spaces... with a garden gnome on the cover. Information boards and pamphlet distribution have been deployed to enable understanding —and acceptance— of the revegetation initiative that has radically modified the cemetery landscape.
From the cemetery upkeep team's standpoint, after tough years of weed killing as their primary activity, the adoption of this new vision along with communication on the benefits of plants, most notably its ability to appease users, restores a lot of sense to this cemetery vegetation strategy.
While French cemeteries are having to tackle the ban on phytosanitary products and explore ways of complying, some have already been there and done that, testing and rejecting or approving a variety of solutions, with vegetation playing an important part in the grand scheme of things. It's inspiring!
More advice about vegetated cemeteries
Our thanks to Bénédicte BAUER, Renaud KINTZ and Strasbourg City for sharing their experience.