How to attract visitors to your stand at Paysalia
06 June 2023
Every two years, over 1,400 manufacturers, suppliers and brands invest in a stand at Paysalia, the top landscaping show attended by 30,000 professional visitors and journalists. It is vital to have a stand which stands out so they can see you! GL Events Stand Design and Installation manager Cyril Massard lists some of the tried and true methods to do this. All are easy and will help you make the most of Paysalia.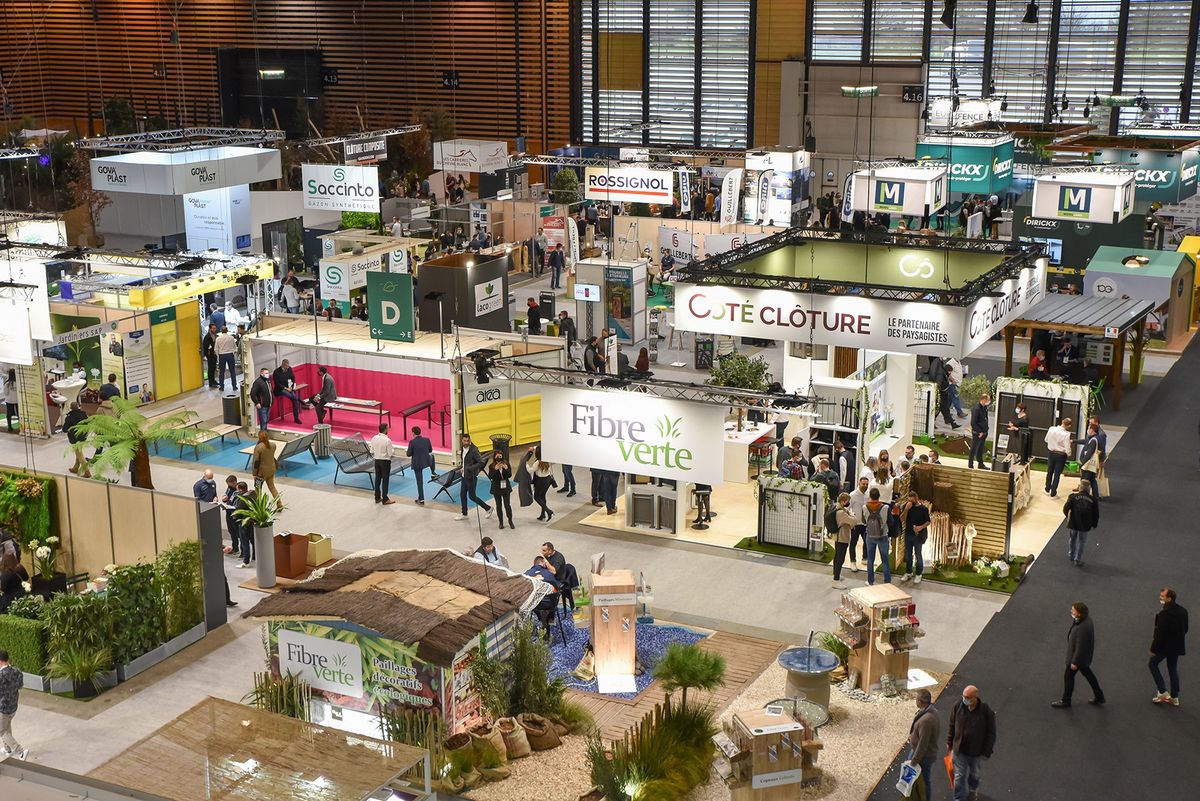 © Photo from Nicolas Rodet
6 good reasons to exhibit at Paysalia
Tip 1: make your stand visible
Did you know that your first contact with Paysalia visitors is above their heads? When they enter the show and to help them organize their visit, their first reflex is to scan the signs hung up high. So to say you are there it is a must to install an overhead banner or an advertising totem visible from far away. But be careful, above all visitors just want to know where you are and not be submerged with information! 
A good trade show sign features:
a logo
a baseline
no text nor image
a lighting scheme, that the Paysalia team can install for you
If you want to rise high, don't go over the top: there will always be a company whose sign will be higher than yours. Instead of trying to outdo the neighboring stands, why not take the opposite solution and float your banner under their signs. To choose the best strategy and make the necessary adjustments, visit the Paysalia trade show two days before it opens and profit from your visit to collect your car park and entry passes.
Paysalia suggests several solutions to attract more visitors to your stand, including the promotion of your business on the Paysalia website and in printed advertising, the Paysalia Innovations Awards and as a sponsor of the Carré des Jardiniers…
Tip 2: tell visitors why you are here
When you decided to show at Paysalia, what was your reason for having a stand there? Is it to present a new product, find new investors or extend your customer base? Your purpose dictates your stand layout, whatever its size… and, of course, what you will say and do there. 
A hanging banner with a well-targeted slogan is likely to have more impact than if you try to send a universal message - which in fact interests nobody.
Paysalia visitors are usually looking for new products and services. A good idea can be to adopt a less is more policy, i.e. to group your products by range without showing everything so as to focus visitors' attention on your latest innovations.
Tip 3: make your stand outstanding with decoration
Basic stands have white panels which are worth decorating with your corporate colors. Add hanging banners or other advertising media to create a highly visual stand, easy to see, easy to remember, which easily highlights what you contribute to the profession. Here are some ideas for decorating your stand which stimulate human senses instinctively: 
color
screen TV videos with musical backings
subdued lighting
physical products visitors can touch - a sample of synthetic grass, bags of mulch…
Paysalia themes attract visitors sensitive to beauty. Use their artistic natures to enjoy the decoration of your stand, maximize their interactions and boost your chances to make new customers!
Do you need help? Our Stand Design and Fittings Service is ready and waiting
Do you need modern furniture, advice on lighting or to add more personality to your stand, but don't know how? Get in touch with our specialized service to get affordable, customized assistance.
How we can help you design your stand:
Creativity: Design, appeal and modernity reflecting your ambitions
Serenity: One contact to manage your needs from A to Z, from design to execution
Reliability: Many years' experiences guarantee we fully understand the spaces and our teams
Reactivity: Our team can meet your last-minute needs
CONTACT US VIA YOUR CUSTOMER SPACE
(Technical chapter)
Tip 4: Plan your visitor reception strategy 
There is a fundamental principle to trade shows: the longer you want visitors to stay on your stand, the more comfortable your furniture must be. So you need to decide if your priority is to maximize contacts or demonstrate your products and services in one-on-one interviews!
Choose settees, coffee tables, comfortable armchairs and snacks if you want your visitors to stay for a long time.
Choose bar tables which favor a high visitor turnover to greet as many visitors as possible.
And remember to give your press kit to journalists. Check out our advice on how to create a convincing press kit.
And, above all, your stand must follow the architectural rules. All exhibitors who have rented an unequipped stand must validate their installation plan before October 27th. All information needed is available in your customer space. Not yet a registered exhibitor?