Eco-urbanism: a vegetable garden on the Paris' roofs
20 March 2018
In the face of climate change, eco-urbanism is growing by reconciling an urban way of life with nature. Recently, we talked about Detroit's urban gardens. In France, a vegetable garden has taken shape on the roof of the Institut Culinaire Cordon Bleu in Paris. We take a look at an 800 m2 bubble of oxygen overlooking the capital (1).
An eco-urbanism project in the heart of the capital
Seasonal fruits, green vegetables, aromatic herbs, bee hives, insect hotels… Nestled at the top of a brand new building, the Institut Culinaire Cordon Bleu urban garden is a real haven of peace. Colorful planters sit next to advanced technological equipment that makes it possible to cultivate on the paved floor. Inaugurated in 2016, this innovative and ambitious project is part of an educational approach championed by the international culinary network, Le Cordon Bleu. Bringing together more than 20,000 students around the world, the institute aims to train a new generation in the cultivation and harvesting of vegetables and plants.
The benefits of an extraordinary vegetable garden
This vegetable garden located on the roof of the Institut Culinaire Cordon Bleu, in the 15th arrondissement of Paris, grows many varieties of fruits and vegetables. Eco-responsible and modern, it's been designed to have minimum impact on the environment:
Waste is sorted and recycled to create compost. The products used in cooking classes are placed in bins with the aim of enriching the substrate in the planters.
A diverse range of foods are produced thanks to the fruits, vegetables, herbs and honey that are harvested. All the plants have been chosen to represent the richness of the Paris region.
Rain water is collected then used on the vegetable garden thanks to a recovery tank connected to a standpipe.
Discover also : Issues with rainwater harvesting in urban environments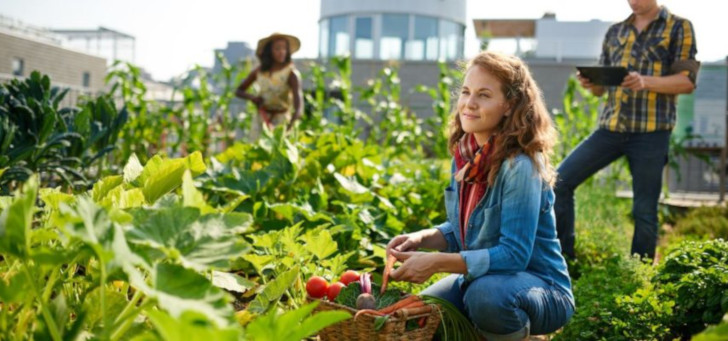 ​
Eco-urbanism initiatives in other cities
After several months of planning and development, this green roof has rapidly enchanted the students and the teaching team. With this innovative initiative, the Cordon Bleu network intends to develop the re-vegetation of space in other schools around the world. Meanwhile, other initiatives reflect the drive to reclaim territory in urban zones.
Still in Paris, the Paris Institute of Technology for Life, Food, and Environmental Sciences has also installed a vegetable garden on its roof (2);
In New York, the city hall is encouraging "sky gardens" (3);
In Berlin, "the princess garden" serves as a role model for citizen who want to eat local (4).
Discover 4 other amazing eco-urbanism projects!
Scattered around the world, these green roofs are a breath of fresh air for city dwellers. And not only that: they can recycle urban waste, capture rainwater and produce seasonal fruits and vegetables. Thanks to these initiatives, eco-urbanism is growing every day! 
---
(1) Le Cordon Bleu, Le Cordon Bleu Paris institute, campus & equipment
(2) INRA, Installing rooftop vegetable gardens for sustainable cities
(3) Irrigazette, Potagers urbains et jardins partagés se multiplient dans les grandes villes occidentales
(4) The city factory, Berlin, partir des usages pour transformer la ville  
Crédit photo : Fotolia / AYAimages