LED street lights in urban landscapes
24 May 2017
LED bulbs are already commonplace in homes and car headlights – and now in street lighting too. In France, laws banning high energy consumption bulbs came into force in 2015 (1) so it became vital to find alternatives for conventional lighting! The main solution, besides solar energy, is LED lighting… but is it as good one? Read our report!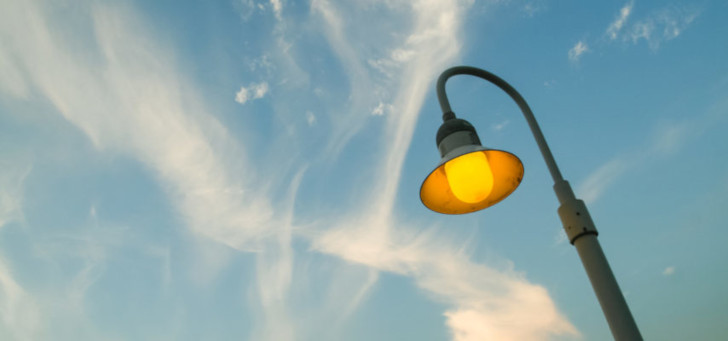 ​
What is LED lighting?
  LED is the acronym for Light-Emitting Diode – a diode which transforms electricity into light. This is the kind of bulb used in screens and automobiles. Over the last few years many cities have adopted LED lighting in buildings and public spaces as an economic and eco-friendly alternative to conventional lighting.  
LED lighting – a bright idea...
In 2016, LED sales were 18.5 billion euros in France and will rise to 30 billion euros by 2020 (2). LED market share in French buildings could reach 61 % by 2020… Why? LEDs have many benefits:
Low power consumption – much lower than the compact fluorescent lamps (CFLs) often used. LED lamps are energy-efficient - 1/3 more than CFLs and contribute to reducing urban power consumption. In Lyon, France, installing LED bulbs in the city's 5 fountains significantly lowered the Town's energy bill!
They are eco-friendly and do not contain lead or mercury …
They are very long-life. The life of bulbs used out of doors (for public lighting and industrial facilities) is estimated to be 50,000 hours and can attain 80,000 (2). That's quite a few years! Which means fewer bulb purchases and replacements … A very rapid return on investment!
They do not heat up which eliminates fire risks.
They are strong enough to resist shocks and vibrations which means they are unaffected by the wind and other perturbations!
  LED lamps can be connected to presence sensors to improve lighting management in buildings and public spaces – and reduce power consumption. Lamps are no longer lit 24 hours a day!
… with a dark side
Despite all these benefits the down side is that LED public lighting has drawbacks, notably for health. (3) This very bright light has a high proportion of blue light which in the long term can damage retinas. Blue light, currently used in smart phones and tablets, also affects circadian rhythms as in the middle of the night it gives the brain the impression that it is daytime! Additionally, LEDs are expensive although their price has dropped over the last few years.  
LEDs make cities brighter and lighter
We have already noted that Lyon's fountains are now lit with LEDs. But Lyon is not the only city to use them. Villeneuve-d'Ascq, one of the first French towns to fit LED lamps, has reduced its power bill by 42 % (4). Paris is gradually adopting this technology and so are Grenoble, Pantin and Bry. Many French towns are currently deciding to swap their street lamps for LEDs. In the USA, Los Angeles promises to become the Eco-lighting capital by 2035, replacing city lighting with connected LEDs (5.) Like France, 130 countries have decided to adopt eco-lighting including Mexico, Australia and Brazil. The list is long!  
Discover also bioluminescence for public lighting
More than just a trend, LED lighting is a revolution in public lighting - not simply to save on civic power bills but also to reduce the impact of lighting pollution. And LEDs are a not only a bright idea for public authority budgets – they are also eco-friendly!  
---
(1) AFE, Normes et réglementation en éclairage public : les essentielles
(2) ADEME, L'éclairage à diodes électroluminescentes
(3) ANSES, LED - Diodes électro-luminescentes
(4) La Voix du Nord, Pionnière de l'éclairage public par LED, la ville a vu baisser sa facture de 42 %
(5) Los Angeles Time, Mayor Garcetti to announce 'Great Streets' initiative in Los Angeles
© Photo credit: Pexels / Jaymantri