How to find clients: the digital levers landscaping companies can use
09 April 2019
Following our article on how prospects choose a landscaping company, why not take the plunge and go digital? Discover the crucial steps for finding new clients, plus expert advice from Franck Prost, horticultural technician and garden chronicler for the Aloe TV YouTube channel.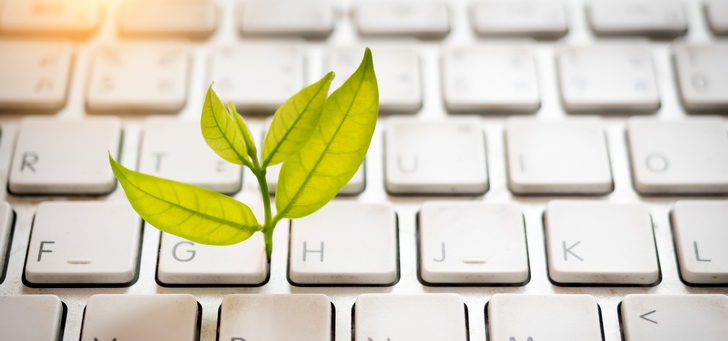 ​
1- Build the reputation of your landscaping company
"Embedded in a mass of information, know-how is nothing if you don't let people know you have it", explains Franck Prost. If the Internet has expanded your communicational opportunities, the same applies to your competitors. To stand out in the crowd you have to be proactive.
Create a company profile
The first stage consists of announcing the existence of your landscaping company on Google. Using the free Google My Business service, professionals can create a profile that ensures they appear in the search engine results and also on Google Maps. This also lets you collect customer reviews – this is important as 96% of web surfers consult them (1)! 
Designing your site and inserting its contents
To boost your visibility, create your own website and regularly post content on it. Turn-key solutions like Wix make it possible for beginners to design their site affordably. If you already know what you're doing, you can use more advanced softwares like WordPress and even ask a developer to create your site from A to Z. Keep in mind that your contents must reflect the quality of your landscaping company and should contain the key search words your prospective customers will probably use.
Launch advertising and promotional campaigns online
To further enhance visibility over time (using a technique called "natural indexing"), you can advertise on Google with the Google Ads service. You may need help from a search engine indexing specialist, because this stage requires expert knowledge about paid ads. There are also advertising opportunities on social media like Facebook Ads. Even small landscaping companies can afford these campaigns, so think about it!
2 – Use your existing landscapes
You have a big plus as a landscape designer – your products are highly visible! So, make the most of it and publish them on the web.
Put your landscapes on line 
Do you already have a website? Great! Now all you have to do is demonstrate your know-how by inserting photos and videos of your achievements! They must be of very good quality and well framed. So the search engines can read and index them, do not forget to insert a caption and to fill in the "alternative text" attribute. Free online services like Polarr make photo editing easy, while Canva is ideal for creating beautiful graphics combining texts and photos.
Make the most of social media
Everyone can have their own page on a social network – and so can companies. Networks are ideal for building your brand image and finding new clients. Even if your target does not contact you immediately, your presence on these platforms makes you familiar. When the need for a landscape designer arises, you will head the list!
Advice from Franck Prost
Landscape designers can tell the world about the quality of their work on a host of platforms - Instagram, Facebook, Twitter, YouTube… But it is not enough to align the icons of these networks on your web site and in your printed handouts. There is nothing worse than a Facebook page without regular updates, or quickly, badly written news texts! Limit the networks if you do not have the time to keep it alive. A "must" is Facebook, which makes it possible to accurately target people likely to have a garden!
And if you decide to launch out onto YouTube, be professional and eliminate badly framed images, irrelevant descriptions and a poor sound – all must reflect the quality of your services.
3 - "Feeling" attracts new clients
In our previous article, we discussed the importance of making a good impression by being pleasant and responsive. The same is true for your digital exchanges with your prospects!
Create a professional blog
Blogs do not sell but create a link providing information answering the questions of your prospective customers. Your experience is unique and sharing it on the web humanizes your digital image and proves you know what you are talking about. And remember to direct your "hits" towards the other pages of your web site (blog articles and "showcase" pages) using links as this helps search engines index your site!
Work on your virtual personality
It is vital to make sure that the texts of your blog and/or on your messages on social media are well written, as they are your first contact with your prospective customers. Build the image you want to transmit by using the right tone, and, especially, avoid spelling errors as they show your company does not pay attention to detail. Free online services, like LanguageTool, search for mistakes – and automatically correct them!
Advice from Franck Prost
The very nature of our plant-related business implies that the possibilities of contents to publish on a blog are numerous - images, texts, videos, hints, tutorials… A professional blog enables you to share your passion and give you expert status, as a landscape designer.
Blogs are powerful indexing tools due to the number of pages (an article = a new page). Pages are indicators for search engines and will boost the indexing of your site.
Finding clients with digital tools is a long-term but worthwhile job. By applying all these hints, you will stand out from your competitors and prospective customers will find your landscaping company more easily. So, click away!
---
(1) Reputation VIP: L'influence des avis d'internautes sur l'e-réputation des entreprises
© Photo credit: bohey / stock.adobe.com