Landscaping equipment: which utility vehicle to pick?
13 February 2020
All landscapers need utility vehicles. The latest generation of vehicles is more powerful, comfortable, ecological, economic and safe. Ideal for professionals. So what's the problem? Too much choice! As it is essential to choose the vehicle which best corresponds to your activities and fit it out and service it in consequence, here are some tips…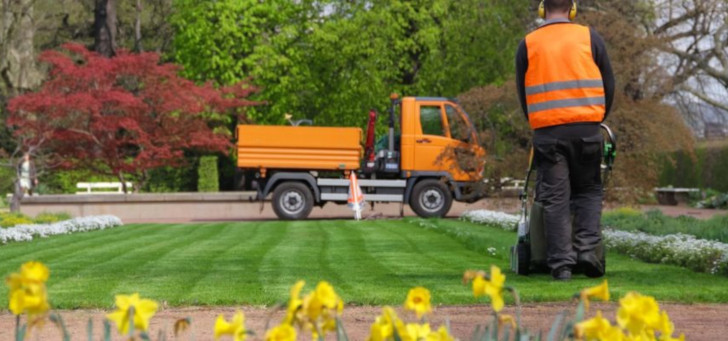 ​
Choosing the size of your utility vehicle. Compact or big?
Big vans
Ideal for driving and parking in urban centres they feature roomy cabins and correct cargo space. For easy access to underground car parks some are under 1m90 in height – but this reduces the volume they can carry. If you want a van that will save you time, choose a model with a full-function instrument panel featuring a GPS, Bluetooth telephone kit, etc.
Le grand fourgon
What is the main advantage of a big van? Obviously, the volume of the load it can carry. Small trucks can carry up to 20m3 of equipment, great for big sites. Some models with access steps protected by the bottom of the door keep the cabin dirt-free. On the other hand, big vans are less easy to use in urban environments – and more expensive than compact vans.
In France you can drive vans with a B license if the maximum authorized mass is under 3.5 metric tonnes. Above this limit a C1 license is necessary. In France, to pull a twin-axle trailer over 750 kg you need a BE license.
Landscaping equipment: customizing and fitting out your van
Optima System sales manager Fabrice Tardy told us that "landscapers need specific fittings". This is "to optimize the site and organization. Customization saves time and boosts productivity!" So what do you need to do?
Design the van's interior
"Small volumes need loading spaces and big volumes need supports like attachment rails and anchor rings. For small vans, we sell furniture that takes up a minimum of space" says Fabrice Tardy. It is essential to select furniture adapted to the van, fittings – like racks and drawers, ideal for small equipment – and built-in workshops. This is also true for your personal safety: emergency braking transforms a loose screwdriver into a dangerous projectile… Last but not least, a well-organized vehicle is the hallmark of a professional!
Design the van's exterior
Have you fitted out the inside of your van to your entire satisfaction? For the outside, think about roof galleries which can maximize storage space and tow couplers, so you can pull a trailer to increase your load. For work on public roadway systems, you should also invest in a warning signage kit. Optima System sells visual warning accessories: "Safety problems are accentuated for landscapers. France has reduced the speed limit on trunk roads from 90 to 80kph. »
Never skimp on van maintenance
Buying the right utility vehicle and fitting it out to match your needs is not enough. All utility vehicles need servicing!
Vehicle inspection ensures the vehicle is in good operating condition and fully serviced. In France, utility vehicles with unmodified chassis must pass the same checks as private cars but more often – 4 years after you purchase a new vehicle, then every year. On the other hand, if a lifting jib is installed, checks are every 6 months.
All vans must pass a pollution test after the technical check. The carbon monoxide content, the lambda value and the opacity of exhaust fumes are monitored. To ensure your vehicle pollutes as little as possible change the engine oil with a good quality oil in compliance with manufacturer recommendations. And don't forget to change the filters too!
LANDSCAPE CONTRACTORS: NEVER UNDERSTIMATE THE IMPORTANCE OF EQUIPMENT MAINTENANCE
Utility vehicles are highlighted in Paysalia innovations
Starting in 2020, polluting commercial vehicles will gradually be banned from downtown areas. This is already the case in Paris (1). The impact? When driving to maintain urban parks and green spaces, landscapers will have to adapt their means of transport – and get the appropriate vehicles. For that, landscaping material and innovations go well together!
At Paysalia 2017, Nissan presented its e-NV200 electric van. 100% electric and ideal for professional landscapers, it glides discretely through urban environments without exhaust fumes and minimal maintenance.
Freegônes, the electrically-assisted tricycle from Kleuster, won the Paysalia sustainable development Trophy in 2015. Fast, it can carry loads up to over 350kg, has a load space of over 1.5 m3 and can climb slopes of 1 in 5. With its aluminium chassis and its latticed tipping platform or fitted with a waste bucket, it is ideal for landscaping activities and improves working conditions – a challenge that has led to more and more innovations. Freegônes EA tricycle can be driven without a license and does not need a plate number. It can use normal roads, cycle tracks, haulage paths on banks, bus and taxi lanes – and park on sidewalks!
Check out the other award-winners of the Paysalia Innovations Trophies in 2017
Choosing the right utility vehicle for landscaping is one thing. Fitting it out and servicing it is quite another. Where do I start? Start by learning about new regulations and checking out the latest innovations in landscaping material – electric, practical and highly-productive utilities are up and running!
---
(1) Le Monde, Pollution à Paris  
© Credit photo : Fotolia / vekidd