Meet the drone, the new landscape designer's best friend
20 January 2021
For Claude Courvoisier (Société Forestière de Dijon - France) and Benoit Brissinger (Unep - France), drones will soon be "musts" in landscape designers' tool kits. All the things drones can do mean we would be silly not to use them for managing green spaces! These new horizons were presented at the Paysalia 2019 conference "What if our best allies were drones?"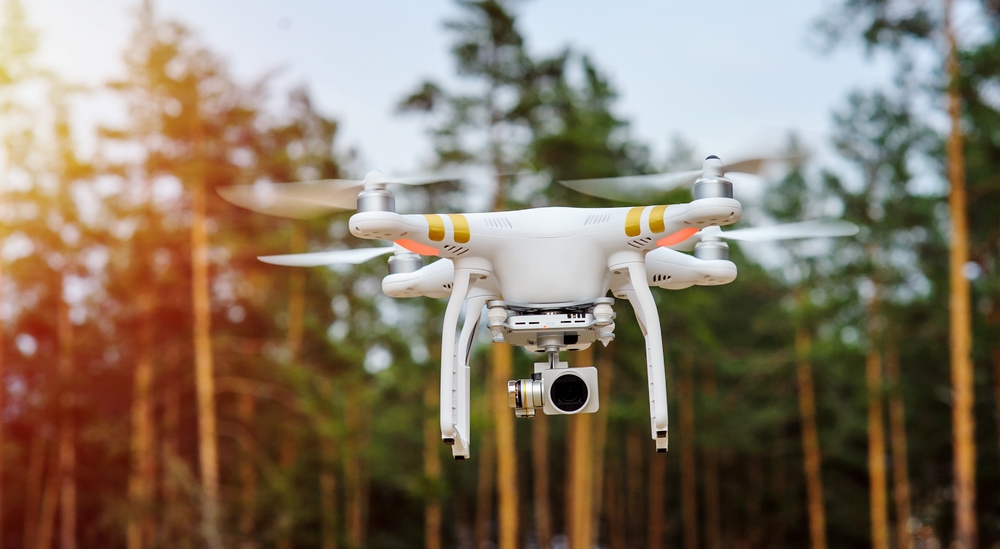 Drones can do great things for landscape designers 
Just like using virtual reality in landscaping, drones make it possible to change our working methods and create more efficiently. They do not replace landscape designers but help them on a day-to-day basis and extend their range of possibilities.
For precise measurements in green spaces
All landscape designers undertaking large-scale reforestation find it difficult to measure the health of plantations with precision. One patch of trees can be healthy, while another more deeply hidden may have been attacked by undetected predators. With drones, you can literally get an overview for a better diagnosis of green space health.
You can also measure heights and surface areas more accurately, which is very useful when determining the perimeter of a zone devastated by a fire, for example. The cubage of piles becomes amazingly precise and simple, in particular in forests where cubing standing trees is laborious.
Read also: Tools to measure the reforestation efforts around the world
A great time-saver
With drones, it only takes a few minutes to define diseased areas in leafy trees or spot the resumption of fires in burnt zones. You can act much more quickly when vegetation is threatened! And it is also a good method for assessing growth rates in plantations – currently a significant time waster when managing big areas.
Case studies discussed at the Paysalia conference included:
Using a drone flying for just 14 minutes, four hours of work were reduced to 90 minutes when measuring the scope of bark beetle attack on common spruces.
When making the inventory of a coniferous forest, the drone saved 60% of the time normally taken to count the number of trees on a plot of land. 
To sign new landscaping contracts 
As a landscape designer and member of the Unep Innovation Commission, Benoit Brissinger is convinced that drones are going to become major sales tools for landscaping contracts.
Drones make it possible to calculate more precise quotations (for example by computing the number of cubic meters to be evacuated) and by providing overall views of sites, essential for landscape designs perfectly integrated into what exists already, making it easier to sell your service. Coupled with design software, drone imaging eliminates surprises as customers see what they are paying for. Rough sketches are obsolete, the virtual age has dawned!
How to choose the right landscape design software for you
Learning drone flying rules and regulations
In France, such as many other countries, drone flying is strictly regulated. For example, there are some no-fly zones and others with tight restrictions. Drones with take-off weights of over 800 g are governed by specific regulations and owners must register each machine. No drones may fly higher than 500 feet. You must also file a flight plan with the local prefecture to work in an inhabited area. So before you start using a drone, take some time to understand the local regulations that may apply in your country.
Qualifying as a drone pilot is a real plus for landscape designers, but every new technology needs training! Professional landscapers need to qualify as theoretical and practical remote drone pilots. Vocational training and certifications are possible in most countries now and you might apply for financial aid to face the training costs. Ask your local professional landscaping organizations!
Topography, location of diseases, photos and films, the inspection of works… Drone use is only just beginning but our sector is closely watching every new development. Who knows where the boundaries for landscaping will be drawn with this technology?
Meet all landscaping innovations from Paysalia 2019
---
© Photo credit: Timonko / Adobe Stock