French Millennials are attracted by landscaping trades despite their prejudices
03 March 2021
A Unep survey in January 2021 to attempt to understand young people's attitudes to landscaping trades discovered that despite some reticence, most under 35s would like to work in contact with nature. These are important findings for the French landscaping sector which has recruitment difficulties.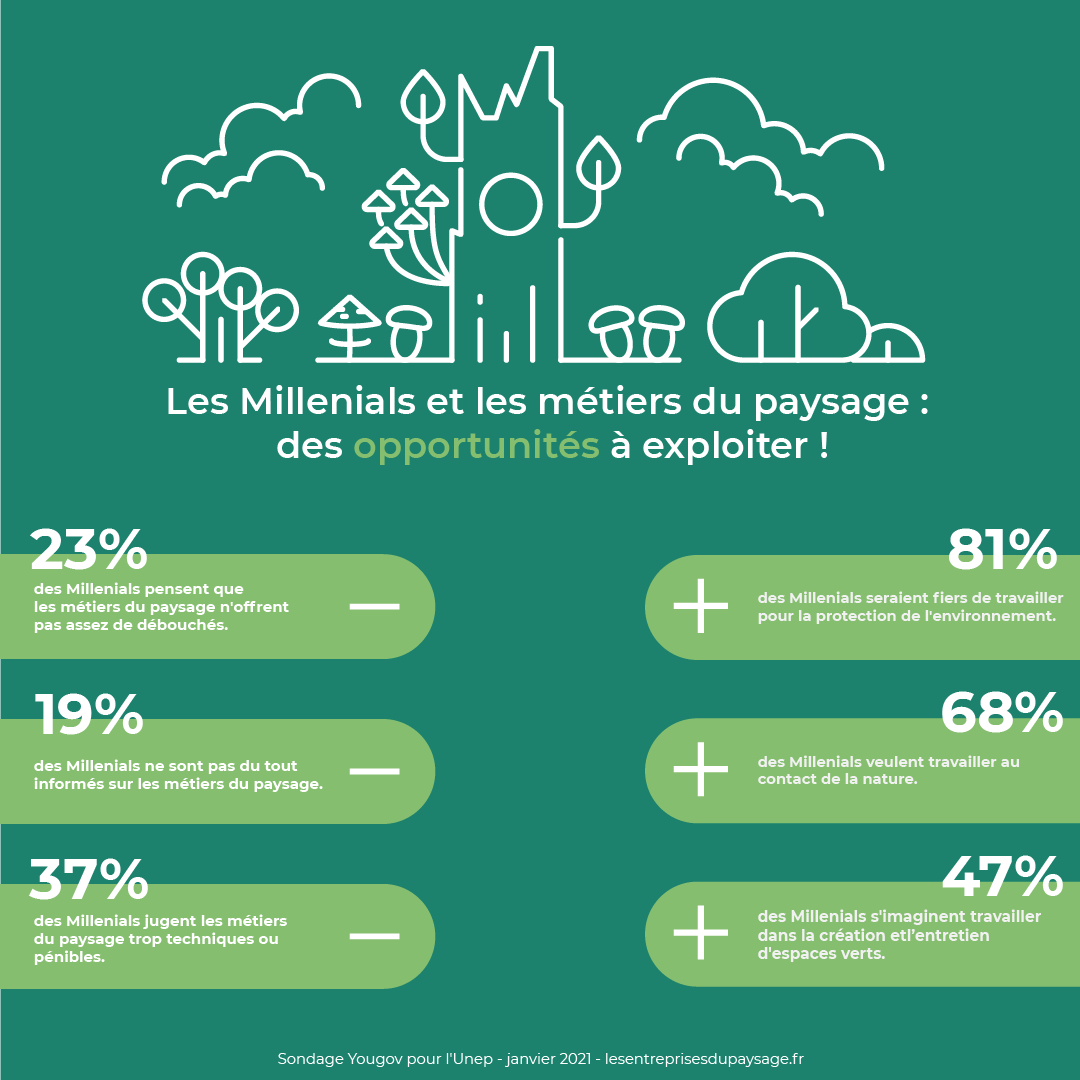 Millennials are interested in jobs in landscaping…
A godsend for jobs in ecological transition, 81% of young people would be glad to work in protecting the environment. And field work does not scare them—68% would like to work in contact with plants and nature. The landscaping trades, like gardening and landscaping, really do meet the ambitions of Millennials as 47% of those polled are interested in the creation and maintenance of gardens, parks and natural areas.
… But are still difficult to recruit 
In 2020 in France, half the job offers by landscaping companies went unfilled. Was that because of preconceived ideas? The Unep survey reveals that 37% of Millennials think jobs in the sector are too technical or tough and 23% of the sample believed there were very few opportunities for promotion.
Despite the many attempts and projects by the sector to promote the landscaping trades, in particular through apprenticeship schemes, career advisers do not give enough information to Millennials—to the extent that 19% of them are not aware of these trades at all. So this challenge has to be met at school and bringing landscaping into classrooms seems to be a good idea.
Read also: How to deal with young landscaper's apprehensions?
This survey is a real opportunity to tackle some landscaping recruitment problems at their source. To check out all the findings of this survey, consult the Unep press release (in French).
Jobs and training in the spotlight of Paysalia 2021
As the sector is constantly evolving, Paysalia assists in the improvement of skill levels in your teams, vocational training and recruitment by providing an area for meetings and discussions with professionals entirely dedicated to training and placement. Paysalia promotes both the attractiveness of the sector and of your business.
The Show helps you with landscaping recruitment and puts you in contact with the best candidates on the market!
---
© Photo credit: Anton / Adobe Stock