The "Cities and Villages in Bloom" label, a winning action plan for French cities
05 May 2021
For 60 years, the National "Villes et Villages Fleuris" ("Cities and Villages in Bloom") label created by the CNVVF has certified the quality of life and attractiveness of French cities, towns and villages. A similar label is also awarded in Quebec where it is called "Fleurons de Quebec". Paysalia accompanies all communities in their quest for becoming blooming cities!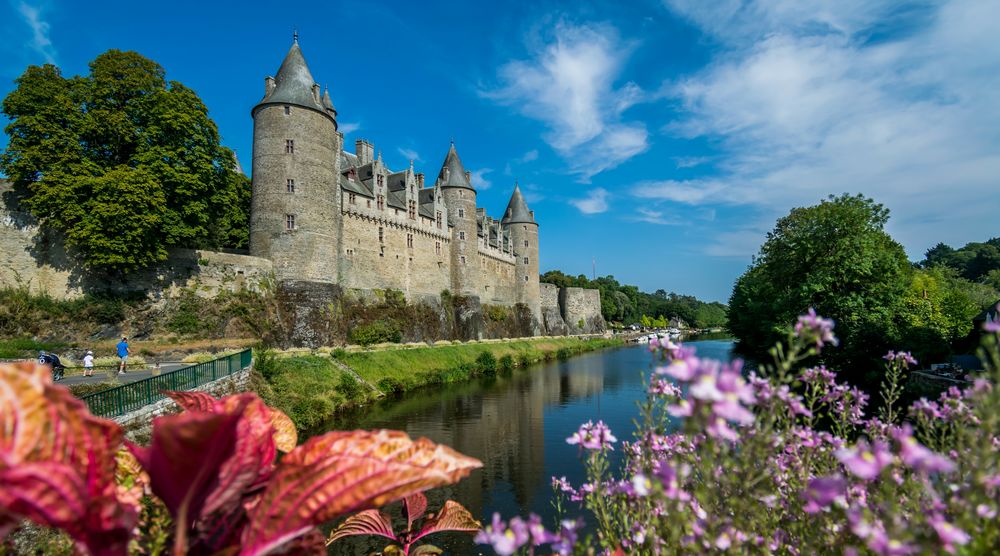 Josselin, a town with 4 flowers
© Photo credit: Bernard Girardin / Adobe Stock
"Villes et Villages Fleuris" - a "must" label for French communities
"Villes et Villages Fleuris" is the best known label in France. By 2021, 4,463 communes had earned the label, 273 of which had been awarded the highest four flower distinction. Communities seek certification for many reasons.
1. To develop the impact and number of plants and flowers
Source of self-development and inspiration, plants are the most beautiful way of getting back to nature… and by extension, building relationships with other people! Flowers in a community incite locals to get out of their homes, meet up, stroll and enjoy happy moments alone or together. Pretty surroundings are genuine building blocks for social life, a way to highlight heritage buildings and create a unique identity.
2. To demonstrate the active commitment of local councils
The decision to seek certification means adopting a strategic approach to management which concerns not only the elected representatives but all the municipal services too - a fantastic opportunity to set an objective shared by all with a real roadmap, using the public policies evaluation and management tools provided by the CNVVF. The label is a distinction rewarding everyone's work and know-how and motivates all the municipal teams - and the population!
3. To promote territorial attractiveness for new inhabitants, business and tourists 
Since Covid-19 and March 2020, the French are trying to flee big cities and are looking to purchase properties and spend their holidays in the country. With the introduction of home working, many families have decided to move out to find a quieter life style. This is why it is essential to promote territorial attractiveness – and flowers are a fundamental tool. 75% of the French use labels to pick their destinations!
Key role plants play in boosting tourism attractiveness
4. To focus town planning on people
An essential pillar of sustainable development, alongside ecology and economics, social planning concerns all the individuals who live, work and pass through a territory. Through vegetalization, each community ensures everyone using the space makes the most of the benefits of green town planning - protection from heat waves, less stress, lower pollution…
5. To protect fauna and flora
Insect and bird populations are in freefall. Over the last thirty years 80% of insects have disappeared in Europe (1)! It is vital to restore biodiversity by adopting more environmentally-friendly practices. Planting cities and reconsidering landscaping and maintenance strategies make towns positive partners in protecting our fauna and flora.
How to attract birds… … and insects in your city!
Paysalia, a privileged partner in helping your city to bloom
Paysalia is a trade show reserved for landscaping professionals. During it, you can get detailed information about how to become a "City or Village in Bloom" by:
finding the best suppliers to meet your needs;
discovering the latest innovations to facilitate the work of your landscaping teams and beautify your community;
attending conferences dedicated to public authorities;
taking part in technical visits;
having discussions with already-labeled cities, towns and villages;
finding inspiration by visiting Lyon, which won its fourth "Cities and Villages in Bloom" flower in 2018.
As a partner, the CNVVF will be present from November 30th to December 2nd, 2021 at Paysalia to answer all your questions about how to become a blooming city.
---
(1) Le Monde: En trente ans, près de 80 % des insectes auraient disparu en Europe