Key role plants play in boosting tourism attractiveness
26 September 2019
There are a host of reasons to want to make a community more attractive to tourists, the first being to bring in business! A "must" part in this strategy is highlighting landscaping and parks, including in urban areas. Between green space design, maintenance and restoration, the cost for public authorities is significant, but the return on investment is too!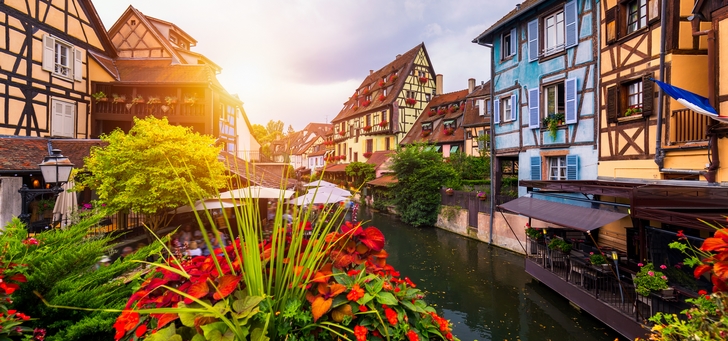 ​
Real estate, health… Check out the 10 other benefits of green urban planning
For the French people, green spaces attract tourists 
In 2014, the CNVVF (The French National Council for Flowers in Cities and Villages) published, in partnership with IPSOS, a barometer of the quality of life and the tourism attractiveness of Flowered Cities and Villages. This study is still valid at a time when local residents increasingly demand more plants in town centers! From inventories and solutions here is a list of the main indicators. 
Residents and visitors all say they want landscapes 
In this study, the people questioned were asked to state the key decision factors they used to choose a destination for their holidays or a green weekend. Although the architectural heritage, geographical location, the presence of beaches or landscaped river banks were the top three, plants are not far behind!
31% of the French people want parks and green spaces;
24% want woodlands;
15% want flowerbeds.
Concerning the environmental elements the population finds important, in addition to calm and possibilities for cultural visits and outings, 18% said they wanted green spaces and landscapes.
CNVVF Director Martine Lesage says this trend is explained by the fact that inhabitants want more and more nature downtown and that tourists have also become very attracted to green cities and villages!
Why green cities should seek certification
The certification of a community through green spaces design is crucial for boosting tourism attractiveness. According to the CNVVF barometer, nearly 3 out of 4 French visitors consider the "label" to be very important when choosing a destination! This label is deemed very positive: 93% of the French people state that a label says a lot about a community and 81% think that it attracts tourists. 
Last but not least, the barometer reveals a strong argument to persuade communities that are still recalcitrant – 86% of the inhabitants of communities without the label are in favor, and even strongly in favor of their community obtaining the label! It is vital for communities to obtain the support of their residents in the certification process as everyone has to contribute, for example by putting pots of flowers on their balconies and planting flower beds in their gardens.
The main focus for changes to green spaces
Where do you start when designing green spaces to attract tourists? The barometer lists the elements which contribute, according to the French people, to make a city or a village attractive to tourists. Top of the list are:
green walks and circuits (68%)
viewpoints onto landscapes (50%)
natural spaces (46%)
parks and gardens (45%)
The poll revealed that the events which people particularly enjoy and which contribute in making a city pleasant include:
cultural events in gardens (concerts, exhibitions) (66%)
plant festivals, flower markets (43%)
guided tours of parks and gardens (37%)
Other suggestions were exhibitions focused on nature and landscapes, passes to visit gardens and natural spaces and temporary gardens.
In our March 2019 press release we reported some of the advice given by Martine Lesage, in particular the following elements: "Towns and villages must be beautiful so that people want to walk and stay there. Vegetation is of course one factor but others are clean and appropriate street furniture, elegant pedestrian circuits and convivial meeting places like squares with welcoming bars with flowered terraces…". As for events, the CNVVF director explains that "In our criteria, as from the 3-flower level, we stipulate guided visits to gardens (secret, inner courtyards, historical) and the flower-decked circuits which are enormously successful. During these visits, guides explain each garden's design and its patrimonial roots to the tourists. There are always a host of anecdotes about the gardens!".
Some examples of flowered cities and villages which have successfully bet on plants!
This community on the French Riviera is well-known internationally and attracts lovers of history and old stone buildings. Its impressive heritage is further highlighted by flowers and the presence of a host of gardens including a listed "remarkable garden" – the Parc Gonzales. The community focused on safeguarding biodiversity and natural resources. A challenge successfully met by this green city's 8,000 inhabitants!
The creeks, quays, narrow streets and colourful small houses in Cassis attract lots of tourists year after year, all eager to enjoy the dolce vita of Provence. This authentic community of 7,500 inhabitants chose to bet on an original floral scheme. Here, the watchword is green space differentiated management so as to integrate them all into the existing environment in the best possible way.

Located in Lorraine (north of France), this green city of 16,000 inhabitants uses plants and flowers as a powerful argument to attract tourists. Toul already had greenery and waterways and believes it vital to protect these resources and highlight them through beautiful walks and green spaces. The rich choice of plants and flowers blends into the local flora in an ideal way!
Wondering which are France's greenest cities?
Major "must" events for enhancing the tourism attractiveness of a community!
The 16e Assises nationales des Villes et Villages Fleuris (National Flowered Cities and Villages Conference) will be held on November 28 and 29, 2019, at the Centre Culturel et des Congrès d'Aix-les-Bains (Aix-les-Bains Arts & Congress center). Organized by the CNVVF, this event is for elected officials, community technicians, members of departmental and regional tourism committees as well as town planning and public space professionals. Follow this CNVVF event to discover the spirit of Flowered French Villages.
On December 3, 2019 at 10.45am, Paysalia visitors can attend a conference on "The importance of plants in attracting tourists and revitalizing downtown areas in Europe" led by World Urban Parks.
Plants have many virtues… including the virtue of attracting more tourists and thus boosting business in communities off the main tourist routes! For successful transformations of communities into green cities, check out our ultimate guide on green space design!
---
© Photo credit: daliu / stock.adobe.com