Using landscape design to create user-friendly parks
14 February 2019
User-friendliness is a great argument for encouraging locals to use green spaces: a complex concept which requires in-depth reflection when creating public parks and gardens. We list below some town planning and sociological elements that need to be considered by public authorities and landscapers, together with several landscaping ideas and events that can be used.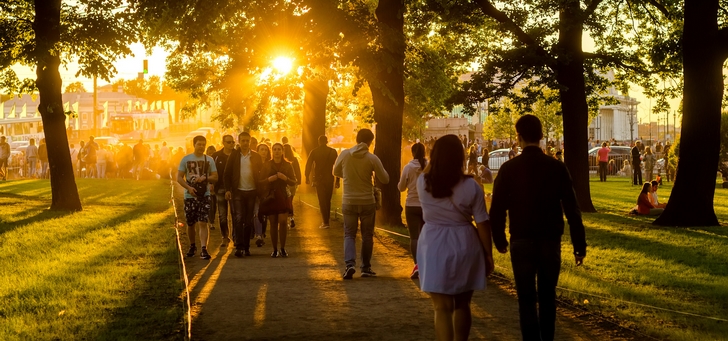 ​
Read also: How to develop urban sport by adapting the city landscape
The landscaping roadmap for creating user-friendly parks
Defined by geographer and town planner Jean-Philippe Dind (1), the principles of user-friendliness applied to town planning combine collective and individual interests. To do that, 4 elements need to be taken into account when designing a green space.
The congruence of the elements
This is the adequation between the way in which a green space is designed and its use by the public. This distinction between space design and space use implies consideration of how the landscaping installation will be used and so to go beyond the function initially programmed. For example, a bench designed for relaxation can become a skateboard ramp. To improve public green space congruence and, by extension, its user-friendliness, it is essential to define the basic conditions of the green space use but to be flexible as to how it is really used.
Qualified diversity
The creation of user-friendly parks requires a study of the diversity of uses. For this to be successful, it must satisfy the needs for traditional activities (walking) but also for more specialized activities (health circuits, roller and skate boarding, etc.). It must also encourage use by adults, children, teenagers and elderly people, by its social accessibility. 
Adequation
This principle addresses the way in which the elements of a public green space interact with their environment, knowing that there are three possible interactions — complementarity, indifference and opposition. One of the challenges of planning a green space will thus be to design landscapes that satisfy all users and encourage their use. A bench located in a high traffic zone, for example, will not be good for relaxation!
Unity
The various elements of the green space must be coherent to create, beyond the interests of individual users, the feeling of user-friendliness. From a spatial point of view, this implies the creation of links between the different zones in a green space, for example by the means of carefully thought out circuits for users to facilitate transitions between zones.
Inspired landscaping ideas for enlivening your green spaces
The principles explained above are theoretical, so here are some concrete examples putting them into practice!
Making parks user-friendly through events
A public green space is ideal for organizing events (concerts, exhibitions…) directly by the community or by outside organizations. For example, during the International Theater Festival in Sibiu (Romania) in 2018, the main parks in the old city were transformed into spellbinding walks through fire shows and bandstands.
Creating convivial green spaces through centers of interest
Birds of a feather flock together! This is why encouraging user-friendliness through the creation of activities is a very good solution. For example, the Zénith Park in Lyon created a library with no physical limits in the park with a garden for reading to attract assiduous readers. The town of Montrouge integrated, with the assistance of a landscape designer, a collective kitchen garden in its Allées Jean Jaurès (2). Geneva proposes giant chess sets in the Bastions Park (3). Worldwide, associations and professionals propose yoga and tai chi sessions in public green spaces, showing that users adapt green spaces in ways different from those originally imagined!
These notes are destined for public authorities, as well as landscape designers participating in the Carré des Jardiniers contest 2019, the theme of which — "the village square" — is all about user-friendliness. Discover how their landscaping ideas meet these problems from December 3rd to December 5th, 2019 by visiting their gardens!
Are you in the landscape planning business? Register as a competitor in this contest!
---
(1) Villedurable.org: Principes de convivialité pour les espaces publics
(2) Ville Montrouge: Les Allées Jean Jaurès, pour une ville plus conviviale et plus verte
(3) Ville Genève: Place de jeux du parc des Bastions
© Photo credit: Andre_Dechapelle / stock.adobe.com