Operation "Canopy Plan": growing trees in cities
13 August 2019
How to go about developing "urban forests" in territories facing the climatic challenges of the 21st century? Greater Lyon, which hosts Paysalia, has found a good solution. Code name: "Canopy Plan" (Plan Canopée in French)! Located where several territories are confronted with the problem and have up until now had different approaches to a solution, the Canopy Plan's aims and objects are to transform the urban landscape of France's second biggest metropole sustainably. To find out more, we interviewed the Canopy Plan's instigator and driver Frederic Ségur, Engineering Manager for the Plant Heritage of Lyon Metropole.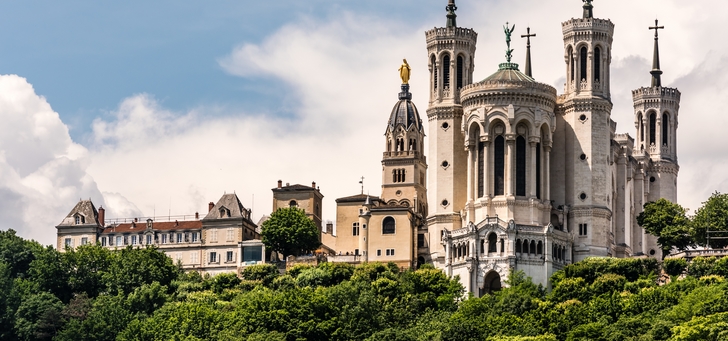 ​
Why not explore Greater Lyon during Paysalia?
Contact our Hospitality Service!
Paysalia: M. Ségur, could you explain why we do need the Canopy Plan?
Frederic Ségur: The Lyon Metropole has been planting trees for almost 30 years to meet demands from residents for a green city that is more pleasant to live in. Our work on returning nature to urban populations focused on trees very quickly, because they have a symbolic value for everyone and also for elected officials for whom they are synonymous with long term vision.
Nowadays, when vision is essentially short term, it is vital to transmit this message of sustainability and altruism, because the underlying philosophy of a tree is that it will be there for the generations to come. We initially started the project with The Tree Charter that I presented to Paysalia in an interview in 2013 (in French). It was signed by public authorities, private developers and associations and has 4 strategic objectives and 25 recommendations. It created a network of players dedicated to transforming the city by planting trees.
However, with this charter, we were dependent on this network. Over time it has become very important to get individuals to act too. So we added a stage to our "ecological rocket" in the form of the Canopy Plan - a hybrid between the Tree Charter and the Greater Lyon climate plan. The latter alone cannot mitigate the climatic effects which will affect every region (the rise of sea levels near coastal towns, the threat to drinking water, etc.).
What has the Lyon Metropolis done to meet these threats?
In our region, the main risk is medical - the population suffers from the heat. The Lyon Metropolis has both a Continental and a Mediterranean climate, heat waves are really hot and exacerbated by small heat pockets. This accumulation of heat raises the temperature significantly. On average, we have from 2 to 4 degrees Celsius more than the surrounding countryside and during heat waves this difference can be as much as 10 degrees Celsius!
Urban heat pockets are not new. In the 19th century, public authorities already planted trees to provide shade and cool the pavements. But now urban designs privilege cars and mineral surfaces, and the metropolization phenomenon accentuates this problem which has reached its paroxysm.
The population can no longer take time out in the surrounding nature, because it is an hour's drive to get out of the metropolis. This is why we have to bring nature into our towns and cities.
The Canopy Plan uses trees to counter these risks. What is the current situation of trees in Lyon Metropole?
We took aerial photographs to characterize Lyon Metropole's urban forest. Downtown, all trees in public and private parks and gardens constitute a diffuse forest which we call urban forests. Their foliage has a very large surface for the evapotranspiration necessary to cool urban areas. One plane tree is equivalent to the surface of a football field if you put the leaves end to end!
By studying these overhead photographs, we were able to calculate that trees occupy 27% of the Lyon Metropole surface area. This is about the same as the average in big American cities. It is rather reassuring, except that the United States and Canada have an urban forest objective of 30 to 40%!
In our metropolis, most of the urban forest is on private land (private homes, companies, condominiums…) and only 20% of the trees are in public spaces. So we have a major challenge to protect what exists with town planning rules and regulations.
Discover an effective way to grow a urban forest!
How does the Canopy Plan complement already existing actions?
The Canopy Plan combines with another project - the permeable city - intended to connect rain water harvesting with tree management to amplify the cooling effect.
It also accompanies the climate plan evoked above through sustainable urbanism (the creation of new vegetated surfaces, flower beds, etc.). The Canopy Plan thus capitalizes on the actions of all the public authorities and players in the metropolis, including private home owners.
Zoom on the 4 main axes of the Canopy Plan
Perpetuate and develop the wooden heritage
Promote the well-being and mobilization of citizens
Federate the professionals around the Canopy Plan
Improve knowledge and develop new practices
Discover these actions in detail on the website of Lyon Metropole (pdf - French).
What are the current objectives of the Canopy Plan?
Today the idea is to go further by getting more people to sign up and by mobilizing the locals. We have nearly 3 million trees on our territory, and we want to plant 300,000 more by 2030 to reach an urban forest surface area of 30% to bring us closer to our territorial resistance objectives. Below that the climatic benefit will be virtually zero. An ambitious undertaking!
How do you hope to convince the host of players concerned to adopt a plan on this scale?
We need to mobilize everyone in the metropolis! To do that, all the landscaping companies who have signed the Tree Charter are the relay. We must convince people that they are masters of their own destiny. They have to understand that our Welfare State cannot solve all the problems alone. Locals must believe in this logic of a shared collective effort. 
Of course, there have to be incentives like free advice (which species to plant, how to manage them, etc.), financial assistance with buying electric bikes, tax breaks, grants for plantations and so on.
We do not have the resources to pay for everything the Lyon Metropolis needs. We have to choose between what is nonessential and what is essential. Greening our towns and cities must be clearly recognized as essential and even a top priority.
What are the biggest obstacles to getting this plan adopted?
Local elections will be held next year. For the moment we are at the ideas stage but we have to wait until 2020 to find out the commitments of the newly elected representatives. Will they adopt this objective or not? We count on their awareness of the difficulties heat waves create. That can take time. It is the trees planted 30 years ago which cool us today. In fact, it will be the generations living in 2050 who will reap the benefits of this plan.
Have plans like this been adopted elsewhere? What have the results been?
To cool New York, a million trees were planted by public authorities and homeowners. Many trees were planted in Australia. Montréal, the surface area of which is similar to Lyon's, has also adopted an urban forest expansion plan.
This idea is quite new in Europe, but there is a true convergence of objectives in pilot communities, of which Lyon Metropole is one! The environmentally-friendly Scandinavian countries have greener cities in which the populations strive to improve the quality of life. The cities in Southern European countries are more exposed to climate change. Barcelona is developing sustainable urbanism, in particular by thinking about planting trees.
You are an active contributor to Paysalia. What will you be doing for the 2019 edition?
We represent the show reception committee. We have a stand at Paysalia and we organize technical visits and events to showcase everything the Lyon Metropole is doing to foster sustainable urbanism!
On December 3, during the Green City Days, in collaboration with the AITF (The French Territorial Engineers Association), we are organizing a visit to innovative urban plantation projects. A "must" event for public authorities, landscape designers and landscaping entrepreneurs!
Learn more about Green City Day
Our thanks to Frederic Ségur for unveiling what lies behind the Canopy Plan! For more information, check out the Lyon Metropole blog. And for even more innovative initiatives in sustainable urbanism, go to our article presenting 6 startups to track as they build green cities for tomorrow's world!
---
© Photo credit: dietwalther / stock.adobe.com