Phytotechnology: sustainable tool for the management of contaminated soils
18 October 2018
Phytotechnologies are very interesting for public authorities wanting to recover polluted areas, industrialists wanting to contain contaminants and landscaping professionals looking to enrich the services they provide. We already dedicated a conference to phytoremediation and landscape planning at Paysalia 2017 and continue on this topic with Valerie Bert, studies and research engineer at the INERIS Clean and Sustainable Technologies and Processes Service.
​
Phytotechnologies in brief
Phytotechnologies are a set of techniques aiming to improve the functions and structure of a soil by the in situ use of plants to extract, contain or destroy organic and inorganic contaminants. Phytotechnologies are a part of sustainable development logic and have only been deployed in the field for about ten years in France, one of the most advanced countries in this subject. We prefer the term phytotechnology to phytoremediation because the latter term only indicates the action of soils decontamination through plants and not overall polluted ground management.
Phytotechnology solve a wide range of problems
Ground is a non-renewable resource
Yet so much of it is polluted today! We have to find ways to limit the need to excavate contaminated soils so they can be treated or stored off-site. This is exactly what phytotechnologies permit. They can be used on a wide number of soils: "sites can be industrial, urban wastelands, agricultural land polluted by metals or organic materials… It is also possible to manage grounds still in use. And these technologies can treat vast surfaces!" says Valerie Bert.
New opportunities for landscape planning in urban areas
Growing environmental protection awareness encourages public authorities to undertake ever more ambitious landscape planning projects. Using phytotechnologies on vacant grounds can turn them into green lungs with a positive impact on the wellbeing of residents through better air quality. Valerie Bert has observed that "plants transform the perception of a space from negative to positive". The development of green spaces in urban areas is a major theme at Paysalia and visits to developments are proposed at each show. In 2017, participants addressed the problems of soil decontamination. See what they said! https://www.youtube.com/watch?v=3gTn5MyvXPU&feature=youtu.be
The creation of new resources
For safety reasons, grounds decontaminated by phytotechnologies must not be used to grow foodstuffs. However these new green spaces can create new exploitable resources. "For example they produce biomass – under certain conditions wood from trees can produce energy. The idea is to set up a circular economy. Moreover, the land value of the grounds increases when they produce biomass. Great for everyone!" Valerie Bert explains.
Phytotechnology from a technical point of view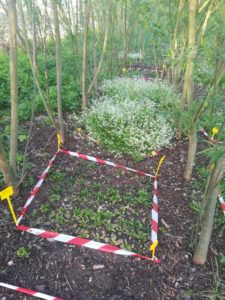 Blooming Arabodopsis halleri (extraction of zinc and cadmium). © Valérie Bert, INERIS
Phytotechnologies use a wide range of plants (there is no single "miracle plant"!) and are effective on a wide variety of contaminants. Some plants extract metals, although lead remains the Achilles' heel of phytotechnology because to date no plant has been found that accretes it. Valerie Bert adds that "although there are plants which accumulate metal, they will never be able to completely decontaminate soils. It will not be possible to achieve the same level of safety as with off-site storage. Every site is different and needs to be analyzed before authorizing use as a park – although risks decrease over time."
Concerning soil stabilization, the idea is to recreate ground cover with plants to reduce contact between the contaminated soil and wildlife and limit dust clouds. New plants are entitled to a small "nudge in the right direction" to improve their effectiveness by the addition of micro-organisms like mycorrhizal fungi which bind contaminants to plant roots to limit their exposure. For example, micro-organisms help plants to destroy organic contaminants like Polycyclic Aromatic Hydrocarbons (PAHs) - highly toxic compounds present in many environments - over time.
Discover another great example of landscape planning used for polluted spaces management
Phytotechnologies are ideal allies in soil management and decontamination and new landscape planning projects. As there are a host of on-going scientific studies addressing these techniques, many new ideas will germinate in the years to come. We will probably have an opportunity to review and discuss them at Paysalia 2019. Exhibitors can register already! Our thanks to Valérie Bert for her contribution.
---
Photo credit: © lassedesignen / stock.adobe.com